Craftsmen as designers of thermal change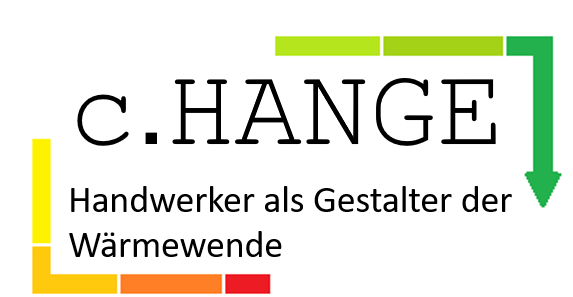 In the face of the challenges of Climate Change, science, consulting, and politics agree on the need for a transformation of our energy system. A significant share of energy consumption in our society can be accounted to private or business buildings. Many of these buildings offer big energy saving potentials. However, especially private households often delay investments although energy saving measures usually result in financial benefits. Against this background, the c.HANGE project has the objective to improve the consulting situation between craftsmen and house owners, with the intention to significantly increase energy efficiency as well as the use of renewable thermal energy. An analysis of the interaction between craftsmen and house owners will be used for the creation of new tools and services. In turn, the consultation performance as well as the customer satisfaction are supposed to be increased. In this project, we want to test and prove the outcomes of these improvements.
| Name | c.Hange |
| --- | --- |
| Funding | Trafo BW – Transformation of the energy system in Baden-Württemberg |
| Project Manager | Ministry for Environment, Climate and Energy Baden-Württemberg |
| Funding number as per notification | BWT17004 |
| Start | May 2017 |
| Ende | April 2019 |
| Project duration | 2 years |
| Project lead | Prof. Dr. Hans Ulrich Buhl |
Sub-objectives of the project:
Analysis and optimization of the communication between private customers and craftsmen in the field of sanitation, heating, and air-conditioning
Development of political and legal instruments, as well as business approaches to increase incentives for the installation of climate-friendly technologies
Design of training material for craftsmen, with focus on renewable and climate-friendly thermal energy
Analysis of the potentials regarding the use of innovative Information Technology (e.g. sensor technology) to optimize the consultation process and the service quality along the replacement of heating systems
Development of an insurance product for risk reduction, which guarantees a certain degree of energy savings after an investment
Design of a strategy to spread the developed solutions
The coordination of the project is done by the ifeu (Institute for energy and environment research in Heidelberg). The ifeu works within a consortium of various research and business partners.
The Fraunhofer FIT focuses on the following aspects of the project:
Cost and impact analysis of restructuring consulting: Analysis of possible monetary savings, depending on the form of consultancy, initial situation, and environment of the customer.
Development and testing of new services: Development of new services to improve the supply situation and consulting performance.
Insurance of energy savings: Exploration of possibilities for modelling and presentation of guarantees and insurances for energy efficiency.
Development and testing of training material: Development of training material for the qualification of (potential) employees.