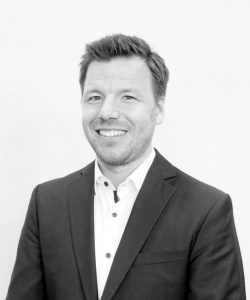 Doctoral Candidate

 soeren.diel@fim-rc.de

  +49 921 55 – 7666 

Bldg. AI Room 1.11, University of Bayreuth
Sören Diel completed his Abitur at the Albert-Schweitzer-Gymnasium Neckarsulm in 2009. From 2010 he studied Sports, Business & Law at the University of Bayreuth, where he received his Master's degree in 2016. During his studies, Sören gained practical experience in an internship with Audi and as a member of the marketing and sales team of Rheinsport. Since April 2017, Sören is working as a Doctoral Candidate at the Research Center Finance & Information Management.
As a member of the research group
"Digital Society"
, Mr. Diel's research activities include the topic of Computers in Human Behaviour, questions of behavioural economics in dealing with digital technologies, the digital transformation in education and digitalisation in sport. He focuses on the topics of technology acceptance and the socio-psychological effects of digital transformation.
My Data, My Choice?! : The Difference between Fitness and Stress Data Monitoring on Employees' Perception of Privacy

in: Proceedings of the 55th Hawaii International Conference on System Sciences (HICSS), University of Hawai'i at Manoa, Hamilton Library, Honolulu, HI, 2022

Diel, SörenGutheil, NiklasRichter, FabianBuck, Christoph

Alexa – Welcome to the Family! : IT identity's mediating role on Social Presence and Deep Use of In-Home Voice Assistants

in: ICIS 2021 Proceedings, s.l., 2021

Diel, SörenHöger, CarolinSchick, Doreen

COVID-19 Infection Tracing with Mobile Apps : Acceptance and Privacy Concerns

in: ICIS 2021 Proceedings, s.l., 2021

Fortagne, Marius ArvedReith, RiccardoDiel, SörenBuck, ChristophLis, BettinaEymann, Torsten

How Digital Technologies Transform Football : A Structured Literature Review

in: 21st Pacific Asia Conference on Information Systems (PACIS) Proceedings, Dubai, United Arab Emirates, 2021

Diel, SörenIfland, SebastianWytopil, FredericBuck, Christoph

The Double-Edged Sword of Social Comparison on Social Networking Sites : Effects on Subjective Well-Being

in: ECIS 2021 Research Papers, Association for Information Systems, s.l., 2021

Diel, SörenHall, KristinaMützel, Caroline

Online-Klausuren – Rahmenbedingungen, Implementierung und Evaluation

in: Dittler, Ullrich: Wie Corona die Hochschullehre verändert : Erfahrungen und Gedanken aus der Krise zum zukünftigen Einsatz von eLearning, Springer Gabler, Wiesbaden, 2021

Diel, SörenEymann, TorstenKollenda, MatthiasSommer, FriedrichStorz, Sandra

Pandemic Containment with Digital Measures : Acceptance and Privacy Aspects of Contact Tracing Apps

in: ECIS 2021 : Human Values Crisis in a Digitizing World, s.l., 2021

Reith, RiccardoFortagne, Marius ArvedDiel, SörenBuck, ChristophLis, BettinaEymann, Torsten

Stadium Visitors' Smartphone Usage and Digital Resource Integration

in: Sport, Business and Management, 2021

Horbel, ChrisBuck, ChristophDiel, SörenReith, RiccardoWalter, Yannic

Your Smartphone, my Smartphone : How Smartphone Ownership determines Social Group Affiliation

in: Proceedings of the 51st Hawaii International Conference on System Sciences (HICCS 2018), Curran Associates, Inc., Red Hook, NY, 2018

Diel, SörenBuck, ChristophEymann, Torsten

BF/M-Spiegel : Journal des Betriebswirtschaftlichen Forschungszentrums für Fragen der mittelständischen Wirtschaft e. V. an der Universität Bayreuth, 2017, Heft 2

in: BF/M-Spiegel, 2017

Kühlmann, Torsten M.Wolz, ManuelKettl, JulianHeinz, RamonaSänn, AlexanderWengler, StefanHoffmann, JuliaEimecke, JörgenBaier, DanielLutz, SaskiaDiel, Sören