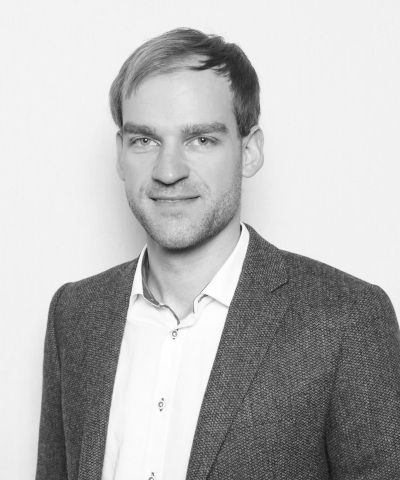 Dr. Wolfgang Kratsch is co-head of the Business Process Management department at the reserach center Finance & Information Management (FIM) and at the business information systems branch of the Fraunhofer Institute for Applied Information Technology (FIT). He is also co-founder and co-head of the Center for Process Intelligence and post-doctoral researcher in Business Process Management at the Faculty of Law and Economics at the University of Bayreuth.
In research, teaching and practice, Mr. Kratsch deals with topics related to data-driven process management, such as the extraction, quality assurance and exploitation of relevant data sources, the application of artificial intelligence (AI) methods to use this data for context-sensitive process management, and the management of AI applications. From a methodological point of view, the focus is on design-oriented research (Design Science Research), resulting in prototypical implementations that can be taken up by future research, but also by immediate practical applications. In addition to numerous relevant publications, Mr. Kratsch is also involved in the scientific community as a reviewer for various journals and conferences.
Furthermore, Mr. Kratsch was and is involved in several different research and industry projects in the above research fields. In close cooperation with industrial partners, he thus contributes to applying the latest research findings to practice. He is also actively involved in the local start-up scene, contributing his own start-up experience. In teaching, he already gained extensive experience in the context of tutorials, lectures and seminars at the universities of Augsburg and Bayreuth.
Mr. Kratsch graduated from the University of Augsburg in 2017 with a B.Sc. and M.Sc. in Business Information Systems. After completing his doctorate at the University of Bayreuth on the topic of data-driven management of process networks (summa cum laude) in 2020, Mr. Kratsch founded the AI-spin-off credium GmbH, where he was responsible for topics related to data science & AI and built up a 15-person team with his co-founders. After a parallel side job as a postdoctoral researcher, Mr. Kratsch has been fully dedicated to science again since September 2022.
The Biggest Business Process Management Problems to Solve Before We Die

in: Computers in Industry, 2023

Beerepoot, IrisDi Ciccio, ClaudioReijers, Hajo A.Rinderle-Ma, StefanieBandara, WasanaBurattin, AndreaCalvanese, DiegoChen, TianwaCohen, IzackDepaire, BenoîtDi Federico, GemmaDumas, Marlonvan Dun, ChristopherFehrer, TobiasFischer, Dominik AndreasGal, AvigdorIndulska, MartaIsahagian, VatcheKlinkmüller, ChristopherKratsch, WolfgangLeopold, HenrikVan Looy, AmyLopez, HugoLukumbuzya, SanjaMendling, JanMeyers, LaraModer, LindaMontali, MarcoMuthusamy, VinodReichert, ManfredRizk, YaraRosemann, MichaelRöglinger, MaximilianSadiq, ShaziaSeiger, RonnySlaats, TijsSimkus, MantasSomeh, Ida AsadiWeber, BarbaraWeber, IngoWeske, MathiasZerbato, Francesca

Shedding Light on Blind Spots : Developing a Reference Architecture to Leverage Video Data for Process Mining

in: Decision Support Systems, 2022

Kratsch, WolfgangKönig, FabianRöglinger, Maximilian

ProcessGAN : Supporting the creation of business process improvement ideas through generative machine learning

in: Decision Support Systems, 2022

van Dun, ChristopherModer, LindaKratsch, WolfgangRöglinger, Maximilian

Automated Process (Re-)Design

in: CEUR Workshop Proceedings, 2021

Röglinger, Maximilianvan Dun, ChristopherFehrer, TobiasFischer, Dominik AndreasModer, LindaKratsch, Wolfgang

Data-driven Management of Interconnected Business Processes : Contributions to Predictive and Prescriptive Process Mining

2021

Kratsch, Wolfgang

Event Log Construction from Customer Service Conversations Using Natural Language Inference

in: Proceedings of the 3rd International Conference on Process Mining (ICPM), Piscataway, USA, 2021

Kecht, ChristophEgger, AndreasKratsch, WolfgangRöglinger, Maximilian

How RAPS Spiced Up the German Butcher's Trade : Introduction of Digital Services to a Non-Digital Industry

in: Urbach, Nils: Digitalization Cases. Vol. 2, Springer, Cham, 2021

Glismann, KarstenJöhnk, JanKratsch, WolfgangNüske, NiclasSchmied, Fabian

Machine Learning in Business Process Monitoring : A Comparison of Deep Learning and Classical Approaches Used for Outcome Prediction

in: Business & Information Systems Engineering, 2021

Kratsch, WolfgangManderscheid, JonasRöglinger, MaximilianSeyfried, Johannes

Amaryllis : A User-Centric Information System for Automated Privacy Policy Analysis

in: Proceedings of the 28th European Conference on Information Systems (ECIS), Marrakech, Morocco, 2020

Dombetzki, LucaKecht, ChristophKratsch, WolfgangRau, Daniel

Bot Log Mining : Using Logs from Robotic Process Automation for Process Mining

in: Proceedings of the 39th International Conference on Conceptual Modeling (ER), Vienna, Austria, 2020

Egger, Andreaster Hofstede, Arthur H. M.Kratsch, WolfgangLeemans, Sander J. J.Röglinger, MaximilianWynn, Moe T.

Customers Like It Hot and Fast : Incorporating Customer Effects into the Meal Delivery Process

in: Proceedings of the 28th European Conference on Information Systems (ECIS), Marrakech, Morocco, 2020

van Dun, ChristopherFehrer, TobiasKratsch, WolfgangWolf, Nicholas

Quality-Informed Semi-Automated Event Log Generation for Process Mining

in: Decision Support Systems, 2020

Andrews, Robertvan Dun, ChristopherWynn, Moe T.Kratsch, WolfgangRöglinger, Maximilianter Hofstede, Arthur H. M.

Treiberbasierte Simulation im Controlling bei Infineon

in: Controlling, 2020

Federmann, FrankHäckel, BjörnIsbruch, FelixKratsch, WolfgangMöller, KlausVoit, ChristianWunderlich, Philipp

Process Meets Project Prioritization : A Decision Model for Developing Process Improvement Roadmaps

in: Proceedings of the 27th European Conference on Information Systems (ECIS), Uppsala, Sweden, 2019

Bitomsky, LauraHuhn, JohannesKratsch, WolfgangRöglinger, Maximilian

Data-driven Process Prioritization in Process Networks

in: Decision Support Systems, 2017

Kratsch, WolfgangManderscheid, JonasReißner, DanielRöglinger, Maximilian