The Digital Finance research area addresses the reciprocal relationship between the finance function and digitization. On the one hand, digitization has a significant impact on the transformation of the finance function. It must be structurally and strategically realigned as part of the holistic digital transformation of companies to take on new tasks. On the other hand, a broad methodological repertoire enables the finance function to better plan, control, and monitor digitization activities based on key figures.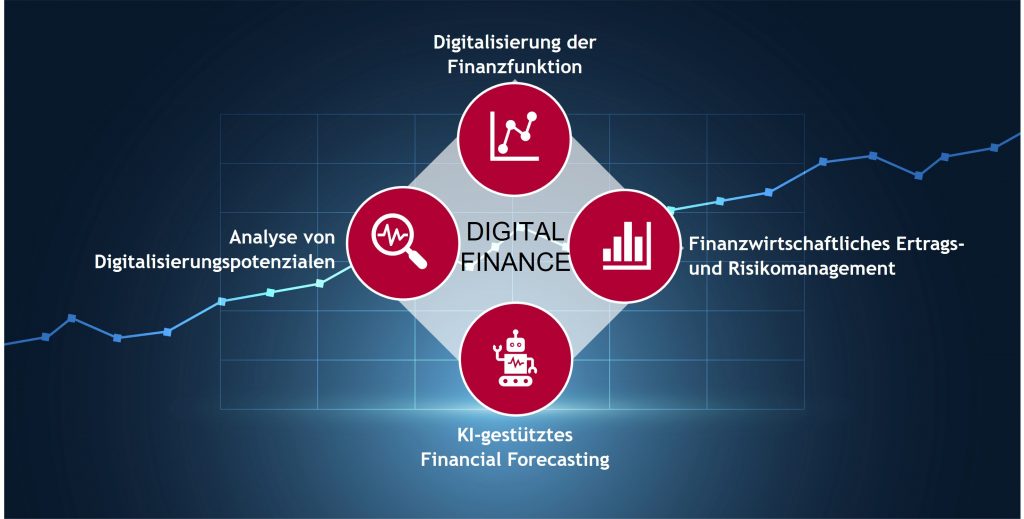 Digitalization of the finance function
While business areas with a high level of customer interaction or in production are the focus of companies' digitization activities (e. g. Industry 4.0), the potential of digitalizing the finance function is often given little attention. Yet this area offers a great automation potential and requires a strategic realignment to harness the opportunities of digitalization and enable new digital business models. In a digitally transformed role, finance uses decentralization and automation to leverage efficiencies in operations and at the same time takes a strategic role as a business partner with its own IT expertise. Thus, this transformation strengthens the strategic role of the finance function and enables close collaboration with the IT organization to be able to evaluate and manage digitalization activities from a business perspective.
Financial earnings and risk management
To manage a company in terms of sustainability and resilience-oriented, value-based corporate management requires an IT-supported, integrated earnings and risk management system. The use of modelling, simulation, and analysis models based on a consistent, company-wide database ensures continuous performance measurement, risk monitoring, and decision support. Financial earnings and risk management also make an important contribution to evaluating and supporting digitalization initiatives from a business perspective.
AI-supported financial forecasting
The finance function of companies is faced with the challenge of providing reliable financial figures and forecasts to achieve a better basis for planning and to enable comparison between current developments and the sustainability goals of a company. However, against the background of increasing complexity, networking, and dynamics in the markets, the manual preparation of forecasts by controlling is costly, time-consuming, and can lead to distorted results. Automated sales forecasts based on statistic procedures and machine learning methods, enable the near-real-time creation of forecasts and scenario analyses, which can be carried out with a minimum of resources and often achieve more accurate results. This helps companies to remain competitive in dynamic markets in the long term.
Analysis of digitalization potential
The analysis of digitalization potential reflects the ambivalence of the relationship between digitalization and the finance function: On the one hand, digitalization and automation potential can be leveraged in the area of accounting and controlling. On the other hand, tools from the finance function can be used to evaluate digitalization initiatives from a business management perspective and to quantify and prioritize their potential. The finance function thus has an important role to play in the course of the digital transformation.
Projects
The research center FIM deals with relevant real-world problems both in publicly funded basic research projects and in applied research projects with practical partners. In doing so, it works with its partners to develop unique and novel solutions based on its insights into the current state of research, its practical experience, and the interdisciplinarity and enthusiasm of its team. Selected projects include:
DaSIe (2019-2021):

Data-based services for industrial companies

Project goal:

Development of innovative analytics solutions and data-based business models.
SIS 4.0 (2018 – 2022): Secure Industry 4.0 in Swabia (funded by the Bavarian State Ministry of Economic Affairs, Regional Development and Energy)

Project goal:

Research into innovative security solutions for the transformation to Industry 4.0, with a particular focus on security requirements, with the aim of developing suitable solutions for the planning, implementation and optimization of digitized development, production and logistics processes, as well as for the design of digital and data-based services and business models based on Industry 4.0 technologies.

TTZ (2018 – 2022):

Technology Transfer Center "Data Analytics"

Project goal:

Increasing the international competitiveness of Bavarian companies through cloud computing and Internet of Things-based business intelligence and (big) data analytics solutions.
ILLumINE (2018 – 2020): Intelligent, data-driven and grid-stabilizing energy supply management for industrial companies, R&D program Information and Communication Technology Bavaria (funded by the Bavarian State Ministry of Economic Affairs, Regional Development and Energy)

Project goal:

Development of a digital energy management platform for industrial customers.
TRiP (2018 – 2019): Transparency in Production Processes, R&D Program Information and Communication Technology Bavaria (funded by the Bavarian State Ministry of Economic Affairs, Regional Development and Energy)

Project goal:

Development of Big Data-based approaches for the intelligent collection and analysis of mass production data.
Infineon AG (2018): Development of a real-time capable forecasting tool to improve decision-making in financial management.
Hilti AG (2018): Economic evaluation of IT security risks and measures in the digital value creation system and development of a (2020+) network strategy.
COMPOSITION (2016 – 2019): Ecosystem for COllaborative Manufacturing PrOceSses – Intra- and Interfactory Integration and AutomaTION, HORIZON 2020 EU project (funded by the European Commission).

Project goal:

Development of an integrated information management system (IIMS) for the manufacturing industry.
c.HANGE (2016 – 2019): Cost and impact analysis in refurbishment consulting and development of insurance policies for energy efficiency measures (funded by the Ministry of the Environment, Climate and Energy Management Baden-Württemberg)
Norddeutsche Landesbank (2016): Development of data-driven services and a strategy roadmap for the enterprise-wide integration of Big Data Analytics applications.
BMW Bank GmbH (2015):  Exploratory data analysis and development of a scorecard for assessing customer creditworthiness and a review and decision-making process for granting loans.
GEWOFAG (2013): Development of a control system for the evaluation of sustainability investments in the renovation and new construction of buildings.
Veröffentlichungen
Offers in teaching