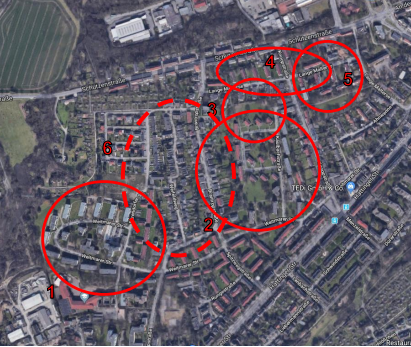 The Open District Hub (ODH) initiative is dedicated to the goal of developing energy-efficient residential districts using locally generated renewable energy and intelligent systems. One of six innovation quarters that are being promoted and researched within the initiative is the residential quarter in Bochum-Weitmar. Together with Vonovia, the Fraunhofer Institutes UMSICHT and IOSB as well as the company Ampeers Energy GmbH, we are involved in this project to provide the quarter with an optimal and sustainable energy supply in the foreseeable future. The state of North Rhine-Westphalia is funding the research project.
An existing quarter in Bochum-Weitmar is being considered. An essential part of this is to compare the planned changes with the needs and wishes of the users and residents and to create acceptance.
With regard to the structural changes, part of the project aims at the energy supply by means of photovoltaic systems. This energy is not to be fed into the public power grid as has been the case up to now, but is to be used directly at the place of consumption and be available to the resident tenants. In order to use the available energy as efficiently as possible, it is necessary to network the electricity, heating and mobility sectors in the neighbourhood. To address the mobility sector, charging points are being built and car sharing of electric cars is being offered. Digitisation plays a decisive role in the implementation of the various components. The intelligent and self-learning energy management system to be developed will ensure in future that the right energy is available at the right time and in the right place – at e-charging points, as electricity in your own household or in the form of heat. The solutions developed within the framework of this project are intended to promote the local energy turnaround and at the same time benefit the residents of the neighbourhood.
| Name | ODH@Bochum-Weitmar |
| --- | --- |
| Funding | Ministry of Economics, Innovation, Digitization and Energy of the State of North Rhine-Westphalia |
| Project Manager | Project Manager Jülich |
| Start | 01.10.2019 |
| Ende | 30.09.2022 |
| Project lead | Prof. Dr. Robert Keller |
Location: Bochum-Weitmar
Size of the residential quarter: 232 buildings with 1,540 apartments
Project partners: Ampeers Energy, Fraunhofer FIT, Fraunhofer IOSB-INA, Fraunhofer IOSB-AST, Fraunhofer UMSICHT, Vonovia
Project objectives and focus
Economically and ecologically sustainable solutions that fit into the existing energy system: Sustainable upgrading of existing buildings and the living environment
Coupling of the electricity, heating and mobility sectors at neighbourhood level
Orientation towards the needs of the residents in the residential quarter
Implementation of a digital market platform and a neighbourhood app:
Use of local, green electricity: Interaction between energy supply (e.g. electricity generation by photovoltaic systems) and energy use within the neighbourhood.
Enabling the integration and acceptance of electric mobility concepts.
Activation of users in the neighbourhood, creating acceptance and attractiveness of the neighbourhood.
Development of a self-learning energy management system for intelligent control of the neighbourhood.