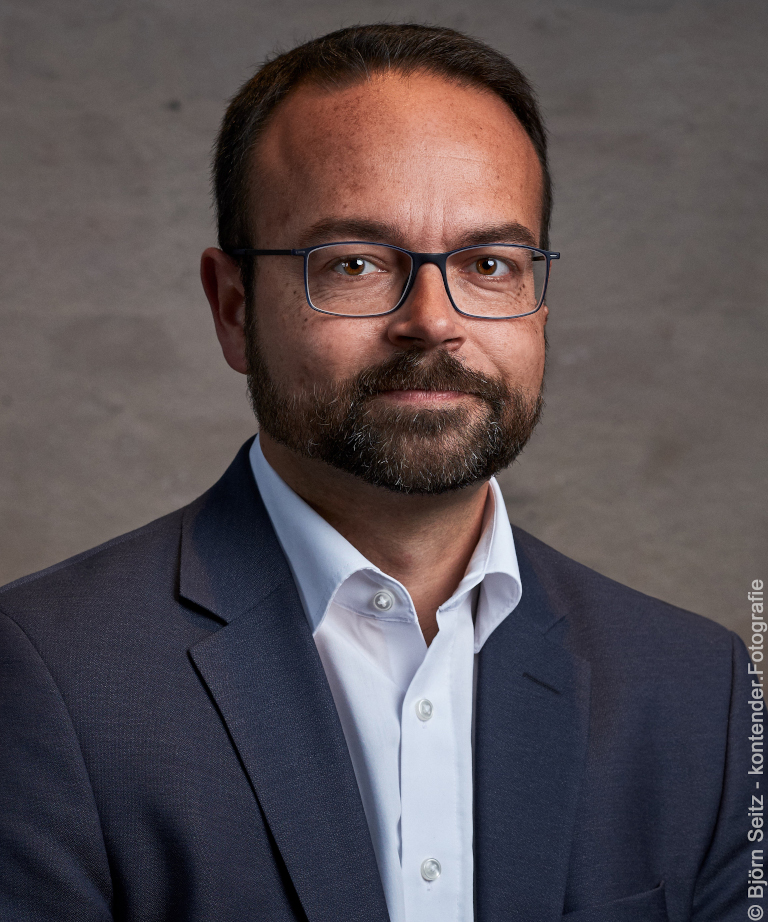 Professor


 bjoern.haeckel@fim-rc.de


  +49 821 598 – 4876


  Room 2302, Geb. I2


Room 2111, Geb. J
University of Augsburg
 Further websites: Augsburg University of Applied Sciences
Since October 2016, Mr. Häckel has held a W2 research professorship with a focus on opportunity and risk management in digital value-creation networks at the Faculty of Computer Science at Augsburg University of Applied Sciences. He is also Deputy Academic Director at the Research Center Finance & Information Management and heads the research group "IT-based Financial Management". At the same time, Mr. Häckel works closely with the Project Group Business & Information Systems Engineering of Fraunhofer FIT.
Mr. Häckel studied Business Administration with a major in Business Informatics, Financial Engineering, Public Sector Management and Production and Logistics at the University of Augsburg. From 2004 to September 2010, Mr. Häckel worked as a research assistant at the Research Center Finance & Information Management, where he completed his doctoral thesis on "Beiträge zum integrierten Ertrags- und Risikomanagement im Rahmen einer wertorientierten Unternehmensführung" with "summa cum laude" in June 2010. In June 2015 Mr. Häckel habilitated at the Department of Information Systems Engineering & Financial Management (Prof. Dr. Hans Ulrich Buhl). At the same time, from May 2013 to September 2016, he represented a W2 professorship for Business Engineering with a focus on Finance, Operations and Information Management at the Faculty of Mathematics and Natural Sciences at the University of Augsburg.
His research topics are particularly concerned with the development of methods and concepts for the control of digital value-creation networks and the evaluation of investments in information technology, while considering integrated opportunity and risk aspects. He particularly addresses the following areas of application:
Digitalization of production as part of Industry

4.0 (e.g. data-based business models, (systemic) risks in digital value-creation

networks, transformation to a smart factory)

Business Technology Management (e.g. IT

innovation management, analysis of potential of technology trends, evaluation

of IT security technologies)

Financial decision support systems for the

energy industry (e.g. intelligent control of plants for own energy production,

innovative financing and insurance products for efficiency measures, risk management

in critical infrastructures)
Mr. Häckel publishes his research results in renowned journals such as ACM SIGMIS Database, Business & Information Systems Engineering, Decision Support Systems (DSS), Energy Policy, Journal of Decision Systems or Journal of Credit Risk as well as at renowned conferences such as International Conference on Information Systems (ICIS) or European Conference on Information Systems (ECIS). He is also strongly involved in applied research projects with companies. His practice partners include BMW Financial Services, Carl Zeiss, Hilti, Infineon Technologies, Nord/LB and ZF Friedrichshafen.
The Digital 'War for Talents' : A Conceptual Framework of Technology-Driven Factors in Digital Personnel Selection Systems

presented at: International Conference on Information Systems (ICIS 2021), Austin, USA, 2021

Berger, StephanNiesel, OliverHäckel, BjörnStahl, Bastian

Das Service Design Framework zur strukturierten Entwicklung datenbasierter Services

in: HMD Praxis der Wirtschaftsinformatik, 2021

Häckel, BjörnHuber, RoccoRieg, MariusRösch, CarlaRövekamp, Patrick

Becoming a Product-Service System Provider : A Maturity Model for Manufacturers

in: Wirtschaftsinformatik 2021 Proceedings, s.l., 2021

Häckel, BjörnHuber, RoccoStahl, BastianStöter, Maximilian

AI-based industrial full-service offerings : A model for payment structure selection considering predictive power

in: Decision Support Systems, 2021

Häckel, BjörnKarnebogen, PhilipRitter, Christian

A Concept for an IT-supported Integrated Earnings and Risk Management to Strengthen the Resilience of Companies in Times of Crisis

in: Aier, Stephan: Engineering the Transformation of the Enterprise : A Design Science Research Perspective, Springer, Cham, Schweiz, 2021

Buhl, Hans-UlrichHäckel, BjörnRitter, Christian

KI-basierte Services intelligent gestalten : Einführung des KI-Service-Canvas

2021

Urbach, NilsHäckel, BjörnHofmann, PeterFabri, LukasIfland, SebastianKarnebogen, PhilipKrause, StefanieLämmermann, LuisProtschky, DominikMarkgraf, MoritzWillburger, Lukas

Toward an Economically Optimal Team Design in IT-related Innovation Projects

in: International Journal of Innovation and Technology Management, 2020

Bitzer, MichaelBürger, OlgaHäckel, BjörnVoit, Christian

Creating Competitive Advantage in E-Business Value Chains by Using Excess Capacity via IT-enabled Marketplaces

in: The Database for Advances in Information Systems, 2020

Häckel, BjörnÜbelhör, JochenVoit, Christian

Approaching Digital Transformation : Development of a Multi-Dimensional Maturity Model

in: Proceedings of the 28th European Conference on Information Systems (ECIS),, Virtual Conference, 2020

Berger, StephanBitzer, MichaelHäckel, BjörnVoit, Christian

Determining the Optimal Time to Launch an Emerging Innovation in a Market

in: International Journal of Innovation Management, 2020

Häckel, BjörnStirnweiß, Dominic

Estimating the Impact of IT Security Incidents in Digitized Production Environments

in: Decision Support Systems, 2020

Bürger, OlgaHäckel, BjörnKarnebogen, PhilipTöppel, Jannick

Treiberbasierte Simulation im Controlling bei Infineon

in: Controlling, 2020

Federmann, FrankHäckel, BjörnIsbruch, FelixKratsch, WolfgangMöller, KlausVoit, ChristianWunderlich, Philipp

Value of data meets IT security : assessing IT security risks in data-driven value chains

in: Electronic Markets, 2020

Bitomsky, LauraBürger, OlgaHäckel, BjörnTöppel, Jannick

Assessing IT Availability Risks in Smart Factory Networks

in: Business Research, 2019

Häckel, BjörnHänsch, FlorianHertel, MichaelÜbelhör, Jochen

Digitale Geschäftsmodelle in der Industrie : Eine Analyse der Auswirkungen und Herausforderungen

in: Meinhardt, Stefan: Digitale Geschäftsmodelle. Band 2, Springer, Wiesbaden, 2019

Häckel, BjörnÜbelhör, Jochen

IIoT-basierte Geschäftsmodellinnovation im Industrie-Kontext : Archetypen und praktische Einblicke

in: HMD Praxis der Wirtschaftsinformatik, 2019

Oberländer, Anna MariaÜbelhör, JochenHäckel, Björn

Organizing Self-Organizing Systems : A Terminology, Taxonomy, and Reference Model for Entities in Cyber-physical Production Systems

in: Information Systems Frontiers, 2019

Berger, StephanHäckel, BjörnHäfner, Lukas

Ausblick auf das Jahr 2025 : Was folgt auf die digitale Agenda?

in: Computerwoche, 2019

Häckel, BjörnRöglinger, MaximilianSeyfried, JohannesMayer, Robert

Economic Perspective on Algorithm Selection for Predictive Maintenance

in: Proceedings of the 27th European Conference on Information Systems (ECIS), Stockholm; Upsala, 2019

Fabri, LukasHäckel, BjörnOberländer, Anna MariaTöppel, JannickZanker, Patrick

Modelling Availability Risks of IT Threats in Smart Factory Networks : A Modular Petri Net Approach

presented at: 27th European Conference on Information Systems (ECIS), Stockholm and Uppsala, Sweden, 2019

Berger, StephanBogenreuther, MaximilianHäckel, BjörnNiesel, Oliver

Modeling IT Availability Risks in Smart Factories : a Stochastic Petri Nets Approach

in: Business & Information Systems Engineering, 2019

Miehle, DanielHäckel, BjörnPfosser, StefanÜbelhör, Jochen

Structuring the Anticipated Benefits of the Fourth Industrial Revolution

presented at: 25th Americas Conference on Information Systems (AMCIS) 2019, Cancún, Mexico, 2019

Geißler, AnnabelleHäckel, BjörnVoit, ChristianÜbelhör, Jochen

Determining Optimal Strategies for Investments in an Emerging IT Innovation

presented at: 26th European Conference on Information Systems (ECIS), Portsmouth, UK, 2018

Häckel, BjörnPfosser, StefanStirnweiß, DominicVoit, Christian

Development of Dynamic Key Figures for the Identification of Critical Components in Smart Factory Information Networks

presented at: 25th European Conference on Information Systems (ECIS), Guimarães, Portugal, 2017

Häckel, BjörnMiehle, DanielPfosser, StefanÜbelhör, Jochen

Explaining the Energy Efficiency Gap : Expected Utility Theory versus Cumulative Prospect Theory

in: Energy Policy, 2017

Häckel, BjörnPfosser, StefanTränkler, Timm

Mindful Engagement in Emerging IT Innovations : A Dynamic Optimization Model Considering Organizational Learning in IT Innovation Investment Evaluation

in: The Database for Advances in Information Systems, 2017

Häckel, BjörnLindermeir, AndreasMoser, FlorianPfosser, Stefan

Towards an optimal investment strategy considering fashionable IT innovations : a dynamic optimization model

in: Journal of Decision Systems, 2017

Bürger, OlgaHäckel, BjörnMoser, Florian

On the Ex Ante Valuation of IT Service Investments : A Decision Theoretical Perspective

in: Business & Information Systems Engineering, 2016

Buhl, Hans UlrichHäckel, BjörnProbst, FlorianSchosser, Josef

Market Pricing of Credit Linked Notes : The Influence of the Financial Crises

in: The Journal of Credit Risk, 2016

Walter, MatthiasHäckel, BjörnRathgeber, Andreas W.

Evaluating Different IT Innovation Investment Strategies from an Ex Ante and Ex Post Evaluation Perspective

in: International Journal of Innovation and Technology Management, 2016

Häckel, BjörnLindermeir, AndreasMoser, FlorianPfosser, Stefan

How to Structure Business Transformation Projects : The Case of Infineon's Finance IT Roadmap

in: Journal of Information Technology Theory and Application, 2016

Röglinger, MaximilianBolsinger, ManuelHäckel, BjörnWalter, Matthias

Integrated long- and short- term valuation of IT innovation investments

in: Electronic Markets, 2015

Häckel, BjörnIsakovic, VaskoMoser, Florian

Combining Models of Capacity Supply to Handle Volatile Demand : The Economic Impact of Surplus Capacity in Cloud Service Environments

in: Decision Support Systems, 2014

Dorsch, ChristophHäckel, Björn

Managing an IT Portfolio on a Synchronized Level, or: The Costs of Partly Synchronized Investment Valuation

in: Journal of Decision Systems, 2014

Häckel, BjörnHänsch, Florian

The Error of Fixed Strategies in IT Innovation Investment Decisions

presented at: 21st European Conference on Information Systems (ECIS), Utrecht, The Netherlands, 2013

Häckel, BjörnIsakovic, VaskoMoser, Florian

Organizational Learning and the Error of Fixed Strategies in IT Innovation Investment Evaluation

presented at: 34th International Conference on Information Systems (ICIS), Milan, Italy, 2013

Häckel, BjörnLindermeir, AndreasIsakovic, VaskoMoser, Florian

Matching Economic Efficiency and Environmental Sustainability : The Potential of Exchanging Excess Capacity in Cloud Service Environments

presented at: 33rd International Conference on Information Systems (ICIS), Orlando, USA, 2012

Dorsch, ChristophHäckel, Björn

An EA-Based Approach to Valuate Enterprise Transformation : The Case of IS Investments Enabling On Demand Integration of Service Providers

presented at: 20th European Conference on Information Systems (ECIS), Barcelona, Spain, 2012

Dorsch, ChristophHäckel, Björn

Identifikation und Strukturierung von Projektportfolios : Konzeption und Anwendung in der Halbleiterbranche

in: IM : die Fachzeitschrift für Information, Management und Consulting, 2012

Hirschbeck, SiegfriedBolsinger, ManuelHäckel, BjörnRöglinger, MaximilianWalter, Matthias

Integrating Business Partners On Demand : The Effect on Capacity Planning for Cost Driven Support Processes

presented at: 45th Annual Hawaii International Conference on System Sciences (HICSS), Wailea, USA, 2012

Häckel, BjörnDorsch, Christoph

Langfristige versus periodische IT- Investitionsbewertung im Rahmen einer wertorientierten Unternehmensführung

presented at: 10th International Conference on Wirtschaftsinformatik (WI), Zurich, Switzerland, 2011

Häckel, BjörnHänsch, FlorianIsakovic, Vasko

Risikoadjustierte Wertbeiträge zur ex ante Entscheidungsunterstützung : Ein axiomatischer Ansatz

in: Zeitschrift für Planung & Unternehmenssteuerung, 2010

Häckel, Björn

Sicherheitsäquivalente sind nicht überflüssig!

in: Journal of Business Economics = Zeitschrift für Betriebswirtschaft, 2008

Buhl, Hans UlrichHäckel, BjörnHoltz, Christian

Sicherheitsäquivalente zur risikoadjustierten Bewertung : Unternehmensexterne Bewertungssicht vs. unternehmensinterne Steuerungssicht

in: Journal of Business Economics = Zeitschrift für Betriebswirtschaft, 2008

Häckel, Björn
Dr. Stephan Berger
Dr. Olga Bürger
Dr. Lukas Häfner
Dr. Florian Hänsch
Dr. Michael Hertel
Dr. Andreas Lindermeir
Michael Ludwig
Dr. Florian Moser
Dr. Stefan Pfosser
Simon Steinbach
Dominic Stirnweiß
Dr. Jannick Töppel
Dr. Timm Tränkler
Dr. Jochen Übelhör
Dr. Christian Voit
Dr. Matthias Walter
Dr. Robin Zorzi