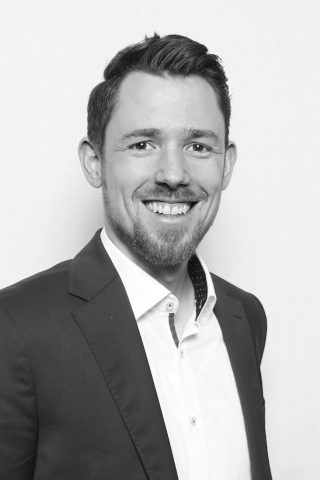 Dr. Manfred Schoch is a postdoctoral researcher at the Chair of Digital Management of the Faculty of Business, Economics and Social Sciences at the University of Hohenheim as well as a member of University of Augsburg, Fraunhofer FIT, and the Research Center Finance and Information Management (FIM).  
In research, teaching and practice, Dr. Schoch deals with issues revolving around the topics of New Digital Work, Social Network Dynamics and Digital Well-being. His special focus is on use processes and outcomes of technology use, as well as on IT-supported collaboration within organizations. In the center of his research inquiries are the efficient and human-centered design of technology as well as its use. This is particularly relevant against the backdrop of the increasing digitalization of our lives.
In his research, Dr. Schoch uses a broad spectrum of methods, including both quantitative methods (especially the analysis of secondary data, network data, and survey data) and qualitative methods (especially based on interviews). He is also interested in mixed-methods designs that combine both data sources. In addition to numerous relevant publications, Dr. Schoch is involved in the scientific community as a reviewer for various journals and conferences.
Furthermore, Dr. Schoch was and is involved in several different research and industry projects in the above research fields. In close collaboration with industrial partners, he thus contributes to making the latest research findings applicable. He is also actively involved in science communication and public relations. In teaching, he has already gained extensive experience in the context of tutorials, lectures and seminars at the Universities of Augsburg and Hohenheim.
Dr. Schoch has taken on various roles at the Research Center Finance & Information Management and the Branch Business & Information Systems Engineering since 2017 – most recently, he served as head of teaching coordination, as project manager, and as science coordinator of a Bavarian research association. He received his doctorate with summa cum laude from the University of Hohenheim with his dissertation on the use of communication and collaboration technology at the digital workplace. Previously, he studied information-oriented Business Administration (M.Sc.) and Business & Information Systems Engineering (B.Sc.) at the University of Augsburg. During his studies, he spent one semester at the Joseph M. Katz Graduate School of Business at the University of Pittsburgh (Pennsylvania, USA).
Gamifying Digital Work : An Empirical Investigation how Gamification Affects IS Use Appraisal

in: Proceedings of the 56th Hawaii International Conference on System Sciences (HICSS), Maui, USA, 2023

Berger, MichelleJung, CarolinSchoch, Manfred

Preferred Gamification Elements in a Health Behavior Change Support System for Stress Management

in: Proceedings of the 56th Hawaii International Conference on System Sciences (HICSS), Maui, USA, 2023

Berger, MichelleLahmer, StefanieReuther, MelinaSchoch, Manfred

From Broken Habits to New Intentions : How COVID-19 Expands Our Knowledge on Post-adoptive Use Behaviour of Digital Communication and Collaboration

in: European Journal of Information Systems, 2022

Schoch, ManfredGimpel, HennerMaier, AndreasNeumeier, Kathrin

How Does Successful Coping Change Appraisal and User Responses?

in: Proceedings of the 43rd International Conference on Information Systems (ICIS), Copenhagen, Denmark, 2022

Weinert, ChristophSchoch, Manfred

Ein integriertes Konzept für nachhaltige hybride Arbeit : Erkenntnisse und Handlungsempfehlungen aus einem Transformationsprojekt

in: HMD Praxis der Wirtschaftsinformatik, 2022

Kreuzer, ThomasLanzl, JuliaRömmelt, JörgSchoch, ManfredWenninger, Simon

The Interplay of Challenge-Hindrance-Appraisal and Self-Efficacy : Technostress and Remote Working Performance During COVID-19

in: Australasian Journal of Information Systems, 2022

Schoch, Manfred

Curating a Crowd that Evaluates Ideas to Solve Grand Challenges : The Role of Specialization

in: Proceedings of the 6th International Conference on Computational Social Science (IC2S2), Boston, USA, 2020

Gimpel, HennerLaubacher, Robert J.Schäfer, RicardaSchoch, Manfred

Digitale Arbeit während der COVID-19-Pandemie : Eine Studie zu den Auswirkungen der Pandemie auf Arbeit und Stress in Deutschland

Fraunhofer FIT, 2020

Gimpel, HennerBayer, SarahLanzl, JuliaRegal, ChristianSchäfer, RicardaSchoch, Manfred

Quantification of Echo Chambers : A Methodological Framework Considering Multi-party Systems

in: Proceedings of the 27th European Conference on Information Systems (ECIS), Uppsala, Sweden, 2019

Markgraf, MoritzSchoch, Manfred

User Roles in Online Political Discussions : A Typology based on Twitter Data from the German Federal Election 2017

in: Proceedings of the 26th European Conference on Information Systems (ECIS), Portsmouth, UK, 2018

Gimpel, HennerHaamann, FlorianSchoch, ManfredWittich, Marcel

User Roles in Online Political Discussions : a Typology based on Twitter Data from the German Federal Election 2017

presented at: 80. Jahrestagung des Verbands der Hochschullehrer für Betriebswirtschaft (VHB 2018), Magdeburg, Deutschland, 2018

Gimpel, HennerHamann, FlorianSchoch, ManfredWittich, Marcel

Emergent User Roles of a Digital Workplace : A Network Analysis Based on Trace Data

in: Proceedings of the 38th International Conference on Information Systems (ICIS), Seoul, South Korea, 2017

Frank, LeonhardGimpel, HennerSchmidt, MarcoSchoch, Manfred

The Business Alignment of Social Media Analytics

in: Proceedings of the 23rd European Conference on Information Systems (ECIS), Münster, Germany, 2015

Kleindienst, DominikusPfleger, ReginaSchoch, Manfred