Secure Industry 4.0 in Swabia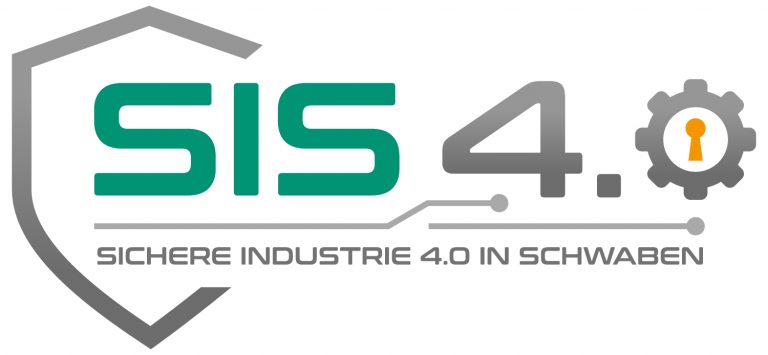 The project Secure Industry 4.0 in Swabia (SIS 4.0) investigates innovative, digital approaches and methods for the core areas of industry 4.0 with special consideration of the security requirements of digital solution approaches. The key questions "How to make the digitized development and production of Bavarian companies secure?" and "How to make digital, Bavarian products and services secure for customers?" will be pursued. Following the security-by-design principle, security requirements are taken into account right from the start in the development of digital solutions.
| Name | SIS 4.0 |
| --- | --- |
| Funding | Bavarian State Ministry of Economic Affairs, Regional Development and Energy |
| Start | 01.10.2018 |
| End | 30.09.2022 |
| Project duration | 4 years |
| Project lead | Prof. Dr. Björn Häckel |
The research project "Sichere Industrie 4.0 in Schwaben (SIS 4.0)" (Secure Industry 4.0 in Swabia) is funded by the Bavarian Ministry of Economic Affairs, Regional Development and Energy and carried out by the Fraunhofer Project Group for Business & Information Systems Engineering and the Augsburg University of Applied Sciences in cooperation with numerous companies from various sectors in the Swabian region (BMK Group GmbH & Co. KG, baramundi software AG, GROB-WERKE GmbH & Co. KG, Günzburger Steigtechnik Munk GmbH, RENK AG, XITASO GmbH, …). The duration of the project is 4 years.
Comprehensive digitization and developments in Industry 4.0 confront companies in the region of Augsburg and Swabia with a variety of challenges. The development of digital innovations, the creation of a secure IT infrastructure and the secure and transparent handling of sensitive production and customer data are key success factors for the sustainable development and expansion of competitive advantages for the Bavarian economy. In order to prepare companies in Swabia for the constantly changing threat situation, the project analyses the security requirements of Industry 4.0 with a focus on IT security. Based on the results, possible IT security measures will be considered in an integrated way and economically evaluated in order to identify mitigation measures and develop a secure Industry 4.0 strategy. Through the close exchange with partner companies, the aim is also to develop characteristics or special security requirements for specific industries, which will ensure the transferability of the project results. The research activities of the project focus on the following three main topics:
1. Security requirements for Industry 4.0 – Focus on IT security:
Integrated consideration of future threat scenarios and derivation of generic security requirements across all levels of the enterprise architecture.
Development of an economic framework for the evaluation of IT security solutions and (building upon this) of an optimal portfolio of mitigation measures.
Research for current and future IT security technologies such as embedded security, Blockchain and Big Data forensics.
2. Development of solutions for secure planning, implementation and optimization of digital development, production and logistics processes.
3. Development of solutions for the secure design of digital services and business models.