This offer is highly individual for non-German-speaking students.
Do not hesitate to contact us.
We offer support through the following:
wi-career.net
Bavarian Elite Academy
German scholarship
Letter of recommendation
Further details can be found on the German page.
If you need more information due to your individual situation, please do not hesitate to contact us.
wi-career.net
Unterstützung beim Berufseinstieg
Das wi-career.net ist ein Karrierenetzwerk des Kernkompetenzzentrums Finanz- & Informations- management (FIM) und der Fraunhofer Projektgruppe Wirtschaftsinformatik des Fraunhofer FIT. Es bietet Studierenden in Augsburg und Bayreuth einen direkten Kontakt zur Praxis. Wesentliche Kernelemente des Angebots stellen u.a. die Unterstützung bei der Suche nach geeigneten Praktika und beim Berufseinsteig, sowie die Vergabe wertvoller Tipps zum Erstellen der Bewerbungsunterlagen dar. Wir sehen uns daher als aktive Schnittstelle zwischen der Praxis und unseren Mitgliedern.
Das wi-career.net ist unser Karrierenetzwerk für Studierende der BWL, der Wirtschaftsinformatik, des Wirtschaftsingenieurwesens und ähnlicher Disziplinen. Sehr gute Studierende des Netzwerks erhalten den Kontakt zur Praxis durch Praktika, Unterstützung beim Berufseinstieg sowie eine individuelle Förderung bei der Karriereplanung.
Die Mitglieder des Netzwerks werden sowohl fachlich als auch persönlich vor ihrer Aufnahme intensiv in einem persönlichen Gespräch von einem Professor und einem Doktoranden geprüft.
Durch eine umfassende Lehrkooperation im Rahmen des wi-career.net in Form von Gastvorträgen, Seminarbetreuungen und Unternehmensevents erhalten die Unternehmen die Möglichkeit, einen intensiven Kontakt zu sehr guten Studierenden aufzubauen. Darüber hinaus erhalten die Partner von uns Vorschläge für potentielle Kandidaten für Praktika und Berufseinstiege, welche auf Ihr gesuchtes Profil passen.
Das Kernkompetenzzentrum Finanz- & Informationsmanagement und die​ Projektgruppe Wirtschaftsinformatik des Fraunhofer FIT arbeiten unter anderem eng mit folgenden Unternehmen zusammen.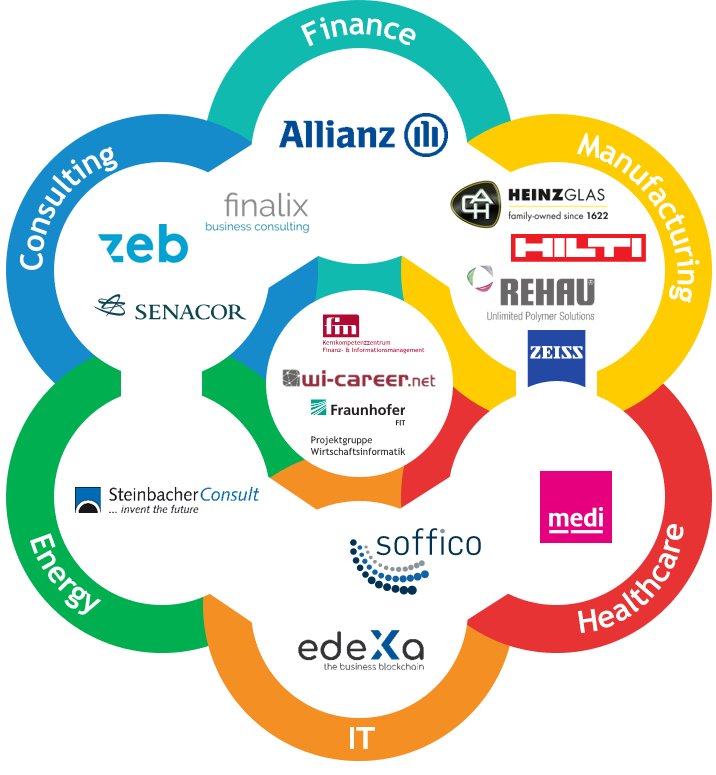 Digital Leadership Academy
Bavarian Elite Academy
German scholarship
Letter of recommendation