Merge of the digital and physical world!
In the Internet of Things (IoT), physical objects are equipped with sensors, actuators and computing power and linked to the Internet. The resulting smart things become independently operating actors in a connected society and contribute to an increasing fusion of the digital and physical world. At the same time, Smart Things enable completely new types of interaction between companies, things and individuals as well as innovative business models based on newly available data and ubiquitous networking. Companies are faced with the challenge of integrating IoT as a concept into their strategic business orientation and to move away from traditional value propositions and product ideas. IoT enables the connection of physical products with digital services and the embedding of products in IoT ecosystems. This enables companies to interact with consumers in a new way and to provide completely new and innovative value propositions. At the same time, IoT offers companies the opportunity to optimize internal business processes and to redesign cross-company collaboration.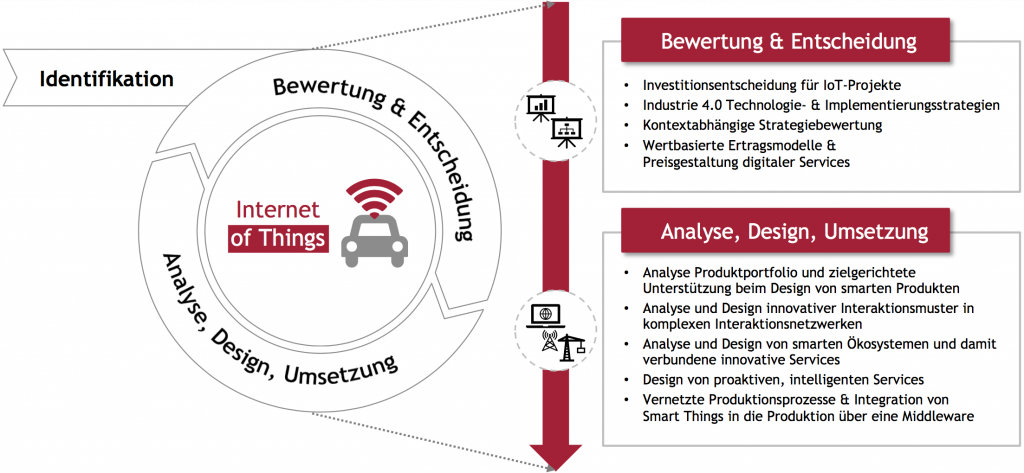 As Research Center Finance & Information Management and the project group Business & Information Systems Engineering of Fraunhofer FIT, we are intensively engaged in research and application of IoT as a key technology. We have already published on the subject of IoT in numerous high-quality journals. In addition, by developing demonstrators and prototypes, we are also researching the use of individual Smart Things, their interconnection and their operation in IoT ecosystems with regard to a wide range of issues. Current lines of research investigate, for example, from an economic perspective how IoT solutions can be monetized reasonably or from a technical perspective how prototypes based on commercial smartphones can be used in industry. Our knowledge has in turn been transferred in a large number of projects into strategically valuable products and in-house applications for companies. For example, the Smart Devices project explored and tested the use of smartphones, tablets and smart watches in production. Our expertise lies in the identification of relevant IoT topics for companies, in the evaluation of these and a subsequent systematic selection as well as the realization of corresponding projects. We support the development of IoT solutions with the methods of the Digital Innovation Lab. Below you will find a selection of projects, publications and courses offered by the FIM Research Center in the area of the Internet of Things.
Projects
The Research Center FIM deals with relevant real-world problems both in publicly funded research projects and in applied research projects with partners in industry. Together with our partners, we develop unique and novel solutions based on our insights into the current state of research, our practical experience and the interdisciplinary and enthusiastic nature of our team. Selected projects are:
DaSIe (2019 – 2021): Data-based services for industrial companies

Project's objective:

Development of innovative analytics solutions and data-based business models.
TRiP (2018 – 2019): Transparency in production processes, R&D program Information and Communication Technology Bavaria (funded by the Bavarian Ministry of Economic Affairs, State Development and Energy)

Project's objective:

Development of Big Data-based approaches for the intelligent collection and analysis of mass production data.
SmarDe's@Work (2017 – 2019): Smart devices in production (funded by the Bayerische Forschungsstiftung)

Project's objective:

Development of a middleware for connecting production participants such as man, machine and production-related IT systems via smart devices.
VABA 4.0: Preselection of industry 4.0 technologies and the derivation, evaluation and analysis of implementation and migration strategies based on them (funded by the Bavarian State Ministry of Economic Affairs, Media, Energy and Technology)

Project's objective:

Development of an IT tool that supports medium-sized companies in the introduction of Industry 4.0.
Publications
Knowledge exchange in the community
Courses