Fusion of the Digital & Physical World?
In the Internet of Things (IoT), physical objects are equipped with sensors, actuators and computing power and linked to the Internet. The resulting smart things or smart things become independently acting actors in a networked society and contribute to an increasing fusion of the digital and physical world. At the same time, Smart Things enable completely new types of interaction between companies, things and individuals as well as innovative business models based on newly available data and ubiquitous networking.
Companies are faced with the challenge of integrating IoT as a concept into their strategic business orientation and to move away from traditional value promises & product ideas. IoT enables the combination of physical products with digital services and the embedding of products in IoT ecosystems. This enables companies to interact with consumers in a new way and provide entirely new and innovative value propositions. At the same time, IoT offers companies the opportunity to optimize internal business processes and to reorganize cross-company collaboration.
Therefore, as core competence center FIM and project group Business Information Technology of Fraunhofer FIT, we are intensively engaged in research and practice with IoT as a key technology. We have already published on IoT in numerous high-quality journals. With the development of demonstrators and prototypes, we are also researching the use of individual Smart Things, their networking and their operation in IoT ecosystems with regard to a wide range of issues. Our knowledge has been transferred into strategically valuable products and internal applications in a large number of projects. Our expertise lies in the identification of relevant IoT topics for companies, in the evaluation of these and a subsequent systematic selection, as well as the realization of corresponding projects.
The project "Smart Devices in Production", for example, can be mentioned as a reference project.
Below you will find a selection of competences of the Fraunhofer Project Group Information Systems in the field of the Internet of Things.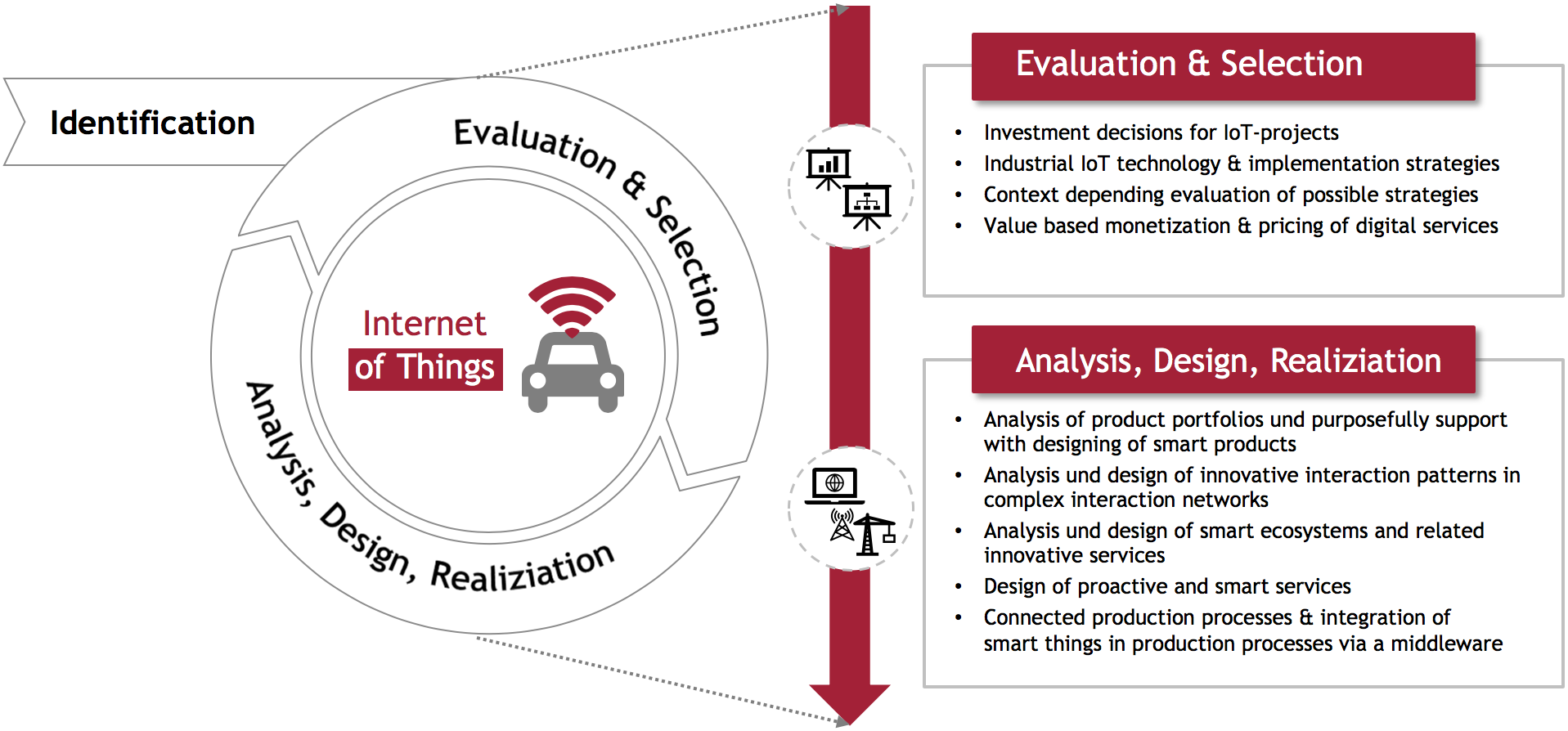 Projects
Publications
IIoT-basierte Geschäftsmodellinnovation im Industrie-Kontext : Archetypen und praktische Einblicke

in: HMD Praxis der Wirtschaftsinformatik, 2019

Oberländer, Anna MariaÜbelhör, JochenHäckel, Björn

Capturing Smart Service Systems : Development of a Domain-specific Modeling Language

in: Information Systems Journal, 2019

Huber, RoccoPüschel, LouisRöglinger, Maximilian

Industrie 4.0 in kleinen und mittleren Unternehmen : Welche Potenziale lassen sich mit smarten Geräten in der Produktion heben?

in: HMD Praxis der Wirtschaftsinformatik, 2019

König, Ulrich MatthiasRöglinger, MaximilianUrbach, Nils

Business Value of the IoT : A Project Portfolio Selection Approach

presented at: 26th European Conference on Information Systems (ECIS), Portsmouth, UK, 2018

Fähnle, AnnikaPüschel, LouisRöglinger, MaximilianStohr, Alexander

Conceptualizing Business-to-Thing Interactions : A Sociomaterial Perspective on the Internet of Things

in: European Journal of Information Systems, 2018

Oberländer, Anna MariaRöglinger, MaximilianRosemann, MichaelKees, Alexandra

What's in a Smart Thing? : Development of a Multi-layer Taxonomy

presented at: 37th International Conference on Information Systems (ICIS), Dublin, Ireland, 2016

Püschel, LouisSchlott, HelenRöglinger, Maximilian