Value-based Business Process Management
Processes in the Digital Age
Value-based Business Process Management
In the digital economy, which is characterized by volatility, uncertainty, complexity and ambiguity, processes are a key success factor. Digital technologies such as the Internet of Things, Artificial Intelligence or Blockchain not only expand the scope for improving existing processes, but also enable new forms of process. In the digital age, the opportunities and challenges of process management consist in using digital technologies effectively and supporting the numerous process forms – from transactional, repetitive, standardized and centralized to data-driven, proactive, knowledge-intensive and decentralized – and application contexts – from private customer processes to omni-channel capable interaction processes to distributed production and innovation processes.
Process management is therefore still a core task of organizations. It comprises tasks such as identification, definition and modelling of processes, their implementation and execution, monitoring and control as well as continuous improvement and innovation. Successful process management requires an interplay of skills in the areas of strategy, governance, methods, information technology, employees* and culture at company level.

The Department of Value-Oriented Process Management at the core competence center FIM and the Fraunhofer Project Group for Information Systems deals with established and modern questions of process management in science and practice. For this purpose, we use design and behavior-oriented research methods, e.g. mathematical modeling, simulations, taxonomies, Delphi studies, method engineering, case studies, prototype construction, surveys and experiments. At the same time we use process management methods such as process modelling, process analysis and process mining – and we continue to develop them further. Our goal is to understand essential relationships in process management and to design useful artifacts and innovative process management concepts that create value in organizations.
Our work in research & practice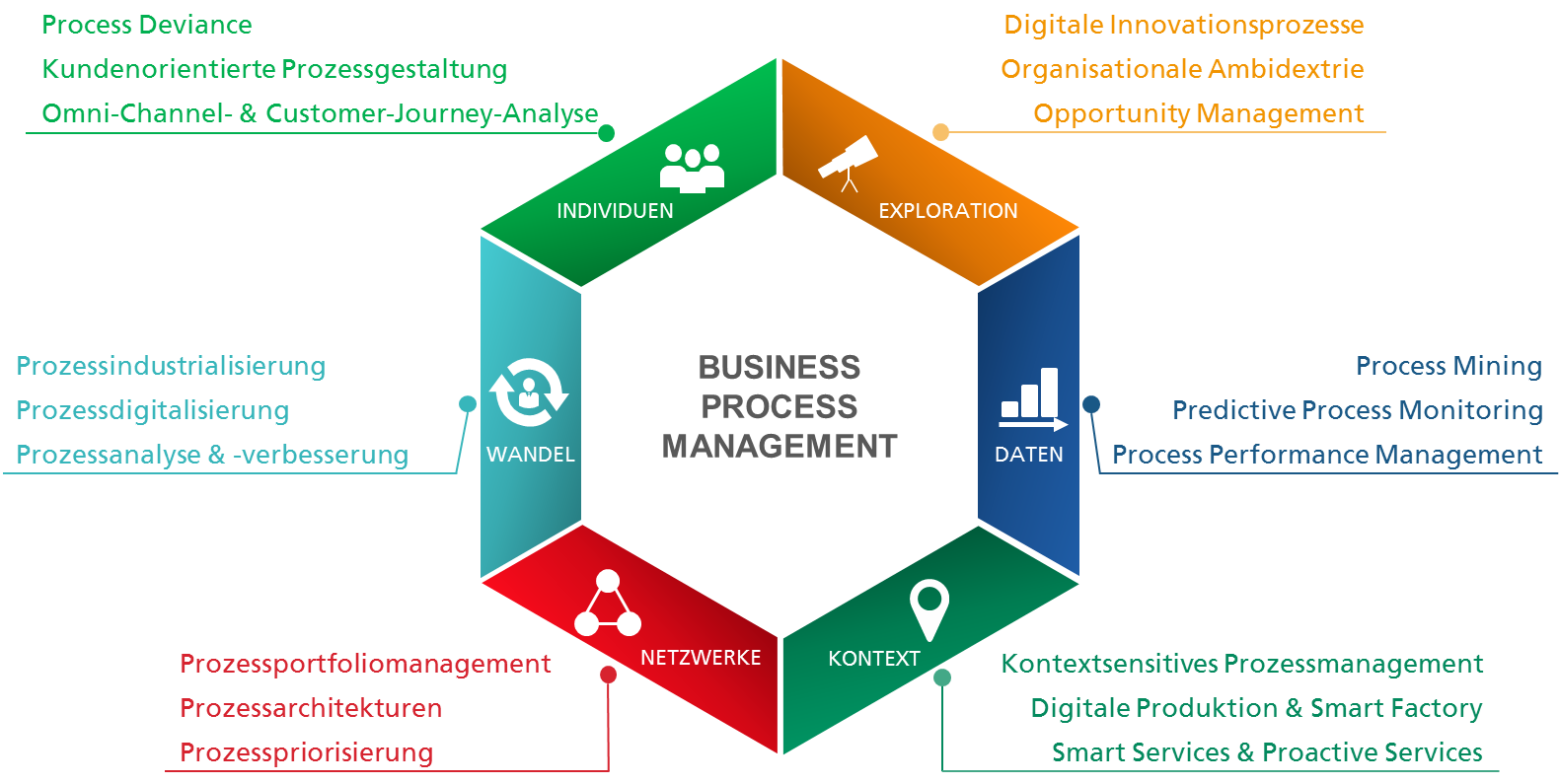 Exploration
Although digital technologies threaten traditional business models, organisations find it difficult to identify and exploit the opportunities they offer. Therefore, innovation processes are needed that are specifically tailored to the possibilities of digital technologies. We develop such processes in our research. In addition, organizations will have to focus more strongly on the exploration of new opportunities (opportunity management) in order to survive in the highly competitive digital economy with short product life cycles. At the same time, they must not neglect their existing business – a mistake made by many organizations. The ability to manage the existing business efficiently while exploring new opportunities is called ambidextry. In our research, we develop practical concepts for this with a focus on processes.
Data
In the digital economy, more data is generated than ever before. This is an opportunity for science and practice. In process management, data can be used to measure and forecast the performance of processes. In this way, positive and negative deviations can be identified and controlled even before they occur. At the same time, event logs can be generated, which in turn are the central basis for process mining. In addition to the analysis and prediction of process performance, our work focuses on data quality management of event logs.
Context
For a long time, process management followed a one-size-fits-all approach. Accordingly, the organizational context in which process management is embedded was neglected. However, this includes the characteristics of relevant processes as well as internal and external factors. In the digital economy, many organizations also operate in several contexts simultaneously. In our work we therefore focus on the design of context-sensitive process management concepts as well as on specific contexts such as smart services, digital production and digital innovation.
Networks
It has long been known that processes are intertwined. In the digital economy, process networks are increasingly forming across organizations. Up to now, process dependencies have primarily been used for descriptive purposes, e.g. for the modelling of process architectures. For decision making purposes, dependencies have hardly been used so far, which is why we deal with them intensively in our work. Thus, we are building methods for process portfolio management as well as for process prioritization under consideration of dependencies.
Change
A central task of process management is process improvement and innovation. For this reason, we are working on methods for systematic process improvement. These include methods of process industrialization along the dimensions of automation, flexibilization, standardization and sourcing on the one hand, and methods of digital process innovation on the other, in which the application potential of digital technologies is used to improve existing processes or to develop processes for new "jobs to be done".
Individuals
The digital age not only changes how customers and organizations interact, but also what employees expect from processes and their IT support. In our work, the customer's perspective is therefore central. Thus, we take an outside-in perspective on processes with the omnicanal and customer journey analysis, develop heuristics for customer-oriented process design and investigate the possibilities of the Internet of Things. In addition, we analyse deviant behaviour in processes (process deviation) and develop tools for its detection and control (e.g. by means of digital nudging).
Projects
The core competence centre FIM deals with relevant real-world problems both in publicly funded basic research projects and in applied research projects with partners in practice. Together with its partners, it develops unique and novel solutions based on its insights into the current state of research, its practical experience as well as the interdisciplinarity and enthusiasm of its team. Selected projects are:
eBPM (2018-2020)
Development of workshop modules on the topic of innovative business process management
KEBAP (2018-2019)
Development of an agile BPM system to support KPI-based real-time monitoring
Smart devices in production (2017-2019):
Development of a middleware for networking production participants such as man, machine and production-related IT systems via smart devices
Carl Zeiss (2018):
Digital Progress Assessment – Development and implementation of an assessment methodology to measure the progress of digital offers/services
Carl Zeiss (2018):
End-to-end analysis of the digitization potential of the order-to-ship process
HEINZ-GLAS (2016-2019):
Process analysis and selection of an ERP system provider as well as subsequent support during system implementation
Bavarian riot police (2016):
Profitability analysis for a possible logistics centre of the Bavarian police and justice system
Publications
Machine Learning in Business Process Monitoring : A Comparison of Deep Learning and Classical Approaches used for Outcome Prediction

in: Business & Information Systems Engineering, 2020

Kratsch, WolfgangManderscheid, JonasRöglinger, MaximilianSeyfried, Johannes

How to Put Organizational Ambidexterity into Practice : Towards a Maturity Model

in: Weske, Mathias: Proceedings of the 16th International Conference on Business Process Management, Sydney, Australia, 2018

Röglinger, MaximilianSchwindenhammer, LisaStelzl, Katharina

How to Exploit the Digitalization Potential of Business Processes

in: Business & Information Systems Engineering, 2018

Denner, Marie-SophiePüschel, LouisRöglinger, Maximilian

Conceptualizing Business-to-Thing Interactions : A Sociomaterial Perspective on the Internet of Things

in: European Journal of Information Systems, 2018

Oberländer, Anna MariaRöglinger, MaximilianRosemann, MichaelKees, Alexandra

Prioritization of Interconnected Processes : a PageRank-based Approach

in: Business & Information Systems Engineering, 2017

Lehnert, MartinRöglinger, MaximilianSeyfried, Johannes

Exploring the Intersection of Business Process Improvement and BPM Capability Development : A Research Agenda

in: Business Process Management Journal, 2017

Lehnert, MartinLinhart, AlexanderRöglinger, Maximilian

Data-driven Process Prioritization in Process Networks

in: Decision Support Systems, 2017

Kratsch, WolfgangManderscheid, JonasReißner, DanielRöglinger, Maximilian

The Future of Business Process Management in the Future of Work

presented at: 24th European Conference on Information Systems (ECIS), Istanbul, Turkey, 2016

Kerpedzhiev, GeorgiLehnert, MartinRöglinger, Maximilian

Value-based Process Project Portfolio Management : Integrated Planning of BPM Capability Development and Process Improvement

in: Business Research, 2016

Lehnert, MartinLinhart, AlexanderRöglinger, Maximilian

An Economic Decision Model for Determining the Appropriate Level of Business Process Standardization

in: Business Research, 2016

Afflerbach, PatrickBolsinger, ManuelRöglinger, Maximilian
Knowledge exchange in the community
In addition to its project activities, the FIM core competence centre is committed to promoting the exchange of knowledge with colleagues* from research and practice. Selected activities are:
International Conference on Business Process Management (BPM), Vienna, 2019: PC Chair Track "Management
European Conference on Information Systems (ECIS), Uppsala, 2019: Track Associate Editor "Modelling and Managing the Digital Enterprise and its Business Processes
International Conference on Business Process Management (BPM), Sydney, 2018: Senior PC Track "Management
European Conference on Information Systems (ECIS), Portsmouth, 2018: Track co-chair "Business Process Management" together with Jan vom Brocke (University of Liechtenstein) and Michael zur Muehlen (Stevens Institute of Technology)
International Conference on Information Systems (ICIS), Seoul, 2017: Associate Editor in the workshop "Business Process Management – Digital Innovation and Business Transformation
International Conference on Information Systems (WI), St. Gallen, 2017, Associate Editor in the track "Thought Leadership in Digital Transformation
European Conference on Information Systems (ECIS), Guimaraes, 2017: Track Co-Chair "Business Process Management" together with Michael Rosemann (Queensland University of Technology) and Jan vom Brocke (University of Liechtenstein)
International Conference on Business Process Management (BPM), 2017, Program Committee
International Conference on Information Systems (ICIS), Dublin, 2016: Associate Editor in the track "Information Systems Design and Business Process Management
DIGIT Digital Disruption and Transformation for banks & insurance companies, Frankfurt, 2017, co-moderation with Hans Ulrich Buhl and Henner Gimpel
Education
Further information about lectures and seminars can be found at
University of Augsburg:
– Lecture "Value-based process management" (B.Sc.)
– Seminar "Value-based process management" (B.Sc.)
– Seminar "Value Oriented Process Management" (M.Sc.)
University of Bayreuth:
– Lecture "Value oriented process management" (M.Sc.)
– Master seminar "Business Informatics" (M.Sc.)
Elite network study course Finance & Information Management: