Digitisation in all Areas of Life
The rapid development of new technologies is a key driver for the digitalization. Nowadays the digitalization is part of everyday life. Wearables, Smart Home, Connected Car and many other applications can be used by enterprises and private persons. This "digital" life implies manifold challenges, radical innovations and visionary projects. Hence, we are dedicated to research the topic Digital Life, the digitalization of human life in all areas of life.
A holistic approach is the only way to address the diverse issues that come along with the Digital Life. Therefore, we investigate different facets of Digital Life in interdisciplinary teams and combine methods from IS, economics, computer science and psychology. We concentrate on three major areas regarding research, application and education: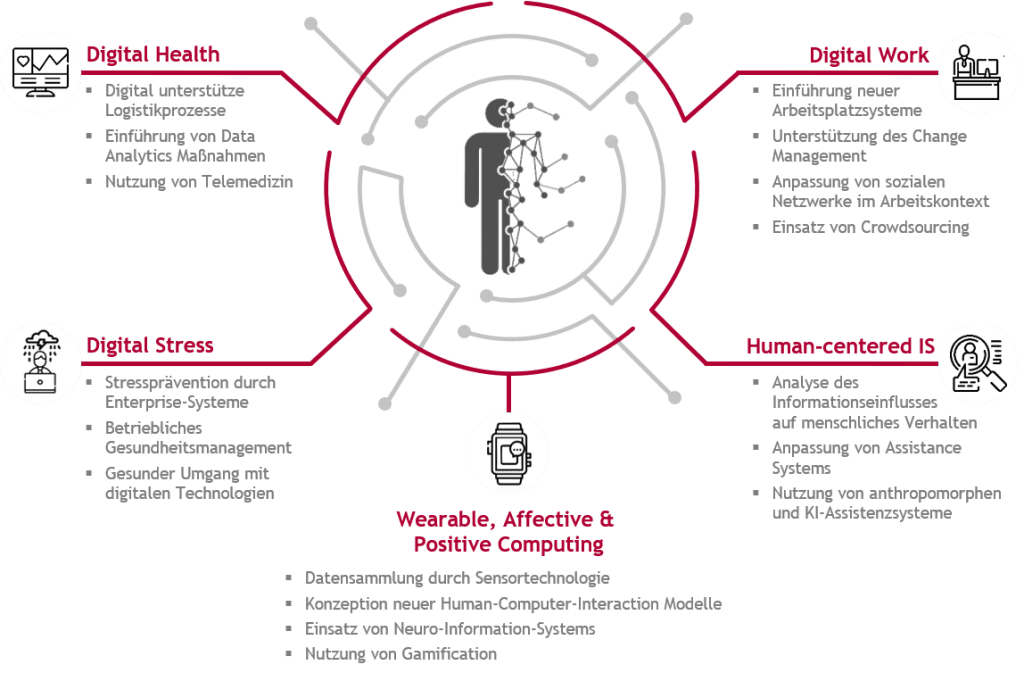 Importance for Research, Application & Education
Potentials?
Which potentials come across with the digitalization of healthcare and how can they be used in a sustainable manner?
Change?
How does the digitalization change the workplace of today and how should the tomorrow's workplace look like?
Digital Stress?
How does digital stress arise, how can it be identified and what is the healthy use of digital technologies?
Increase Benefits?
How can information systems and information be designed to increase the benefits for individuals?
Positive Influence?
What are the potentials for positive influence on human behaviour through information systems and how can digital technologies be geared more closely to people and their needs?
To answer the questions that arise, we use both design and behavioral research methods (e.g. development of software prototypes, case studies, experiments, surveys). Through our strong networking with companies and other research institutes, we conduct applied research that looks at interesting aspects from different perspectives and creates sustainable added value for companies and private individuals.
Digital Health
Under keywords such as telemedicine, electronic patient files, big data and networking of players, technological progress allows new forms of care, improved communication and increased digitization of the health care system. Digital Health encompasses all applications and measures that use the possibilities of modern information and communication technologies. These support, for example, the treatment and care of patients or the prevention of diseases. Digital Health puts the patient at the centre of attention. The aim is to avoid overuse, underuse and misuse, achieve cost efficiency and create transparency. Digital health management answers the question of how health-conscious behavior can be further promoted, both at the consumer level and from a business perspective, in order to reduce sick leave. Employers must apply the Occupational Health and Safety Act and also introduce solutions for employees. Data Analytics functions here as a methodological building block that makes it possible to derive concrete and action-oriented recommendations from the broad mass of available data. Ultimately, the networking of actors through digital processes and systems makes it possible to minimise coordination, integration and networking problems and contributes to increasing quality and efficiency.
The aim of this research area is to improve the health care system through the use of digital technologies. To this end, we investigate how data analyses can improve diagnostics on the one hand and processes on the other. In addition, we address the concerns and reservations of patients about telemedicine and other digital health services.
Further detailed information on our e-health topics can also be found in our brochure.
Digital Work
Information systems are revolutionizing the way people work together in the digital world. However, employers need to look closely at the extent to which technologies and information systems in the workplace actually support, influence or perhaps even burden the company's employees. Does home office or the increasing, almost constant accessibility of employees have an impact on productivity and well-being? Does other communication and collaboration systems change the way people work together in the workplace? When new information systems are introduced, the question regularly arises as to their benefits and whether these outweigh the risks.
Therefore, in this research area we are concerned with acceptance models and the analysis of positive and negative effects of new information systems, especially at the workplace. In this context, we investigate and support the sensible introduction of productivity-enhancing solutions (e.g. in knowledge management or enterprise social networks) in companies.
Digital Stress
Digital technologies hold both opportunities and risks for our health. The use of digital technologies and media can lead to negative stress (distress), burn-out, depression and other health impairments and have a lasting effect on the work-life balance. In contrast, stress can also have a positive, stimulating effect (eustress), which should be encouraged, especially, but not only, in the work environment. Technology design is well advanced so that digital technologies and media can preserve and promote the health of their human users thanks to increasing artificial intelligence, adaptivity and interactivity.
The aim of this research area is to investigate the distribution, the influencing factors and the health consequences of digital stress (technostress) caused by the increasing and more intensive use of digital technologies and media. In particular, it is important to find out how digital eustress can be promoted and how digital distress can be prevented or mitigated.
Human-centred IS
Smartphones, tablets or speech assistants are just a few examples of the fact that digital technologies and the associated information systems have long since become an integral part of our everyday lives. However, the individual handling of the respective technologies and the information presented is very different and individual. The reasons for this range from concerns about the protection of privacy to convenience and the excessive demands of constantly new devices. In addition, the range of hardware and software offers numerous application possibilities that need to be investigated and designed.
In the research area Human-centred IS, we are concerned on the one hand with analysing the influence of information on human behaviour in order to better understand how information systems and their content affect humans. On the other hand, these findings can be used to develop systems that focus on the human being. Possible application scenarios are, for example, assistance systems that can evaluate the affective state of the user and adapt their functionality accordingly. General design principles gained in the development of human-centric information systems can also be used in other domains to promote the acceptance and use of information systems.
Wearable, Affective & Positive Computing
Nowadays, a home network no longer just connects one computer to the Internet. Especially in the private environment, the number of "smart" devices, which are often connected to each other, is rapidly increasing. Thus, in addition to classic devices such as smartphones, tablets and notebooks, new technologies such as smart front doors, heating or loudspeakers are becoming increasingly available. All these applications, such as wearables, smart home and the connected car, are equipped with extensive sensor technology. These sensors create a comprehensive digital image of our lives (e.g. daily activity, movement patterns or bodily functions) as well as new possibilities for making optimum use of the interaction between man and machine. This is because a wide variety of interactions can be observed between a person's handling of these technologies and various aspects of digital life, such as stress, fatigue, but also improvements in performance and well-being.
In this field of research, our goal is to use sensor data of e.g. wearables to study human behavior and to improve human-machine interaction. A special role is played by the use of gamification elements, as this has a significant influence on the handling of information systems.
We try to answer these and other questions together with our cooperation network consisting of various research partners from the fields of computer science, medicine, health economics, law, cultural and communication sciences as well as innovative companies and renowned research institutes, with whom we are networked, for example, via the Centre for Interdisciplinary Health Research and the thematic platforms Digital Health/Medicine, Working World 4.0 and Consumer Issues of the Centre Digitalisation.Bavaria.
Projects
Hospital 4.0 (2017 – 2020):
Further development and exemplary implementation of innovative logistics systems in hospitals through the use of digital technologies.
PräDiTec (2017 – 2020):
Analysis of the stress profile changed by the advancing digitalisation and development of specific prevention measures.
Indiger (2015 – 2019):
Investigation of the conditions for successful network operation and development of design options for structures, processes and technologies for setting up service networks, particularly in the health sector.
Hilti (2013):
Design and implementation of measures to increase the acceptance of modern communication and collaboration technologies.
Hilti (2012):
Design of the development process for mobile applications and implementation of its IT support and industrialization of social collaboration services.
Publications
Die Digitalisierung der Wissensarbeit : Handlungsempfehlungen aus der Wirtschaftsinformatik-Forschung

in: HMD Praxis der Wirtschaftsinformatik, 2016

Köffer, SebastianUrbach, Nils

Der Wissensarbeitsplatz der Zukunft : Trends, Herausforderungen und Implikationen für das strategische IT-Management

in: HMD Praxis der Wirtschaftsinformatik, 2016

Urbach, NilsAhlemann, Frederik

Corporate Adoption of Social Computing : A Process-Based Analysis

in: Journal of Information Technology Case and Application Research, 2012

Räth, PhilipUrbach, NilsSmolnik, StefanButler, Brian S.

Evaluating Mobile Business Applications in Service and Maintenance Processes : Results of a Quantitative-empirical Study

presented at: 19th European Conference on Information Systems (ECIS), Helsinki, Finland, 2011

Legner, ChristineNolte, ChristophUrbach, Nils

An Empirical Investigation of Employee Portal Success

in: The Journal of Strategic Information Systems, 2010

Urbach, NilsSmolnik, StefanRiempp, Gerold

Enabling Usage Control through Reputation Objects : A Discussion on e-Commerce and the Internet of Services Environments

in: Journal of Theoretical and Applied Electronic Commerce Research, 2010

Alnemr, RehabKönig, StefanEymann, TorstenMeinel, Christoph
Knowledge exchange in the community
In addition to its project activities, the FIM core competence centre is committed to promoting the exchange of knowledge with colleagues* from research and practice. Selected activities are:
Multikonferenz Wirtschaftsinformatik (MKWI), Paderborn, 2014: Track "Adoption, Nutzung und Erfolg von Artefakten in der WI"

Multikonferenz Wirtschaftsinformatik (MKWI), Paderborn, 2014: Track "CSCW und Social Computing"

Multikonferenz Wirtschaftsinformatik (MKWI), Paderborn, 2014: Track "Prescriptive Analytics in IS"

12. Internationale Tagung Wirtschaftsinformatik (WI), Oldenburg, 2015: Track "Dienstleistungen und hybride Wertschöpfung in der Digitalen Gesellschaft"

23. European Conference on Information Systems (ECIS), Münster, 2015: Track "Service Innovation, Engineering, and Management"

Multikonferenz Wirtschaftsinformatik (MKWI), Ilmenau, 2016: Teilkonferenz "CSCW & Social Computing"

25. European Conference on Information Systems (ECIS), Guimarães, Portugal, 2017: Tracks "Service Innovation, Engineering and Management " und "Social Media in Business and Society"

Multikonferenz Wirtschaftsinformatik (MKWI), Lüneburg, 2018: Teilkonferenzen "CSCW & Social Computing" und "E-Health – Understanding and Designing the Digital Future of Health"

18. Group Decision and Negotiation Conference (GDN), Nanjing, China, 2018: Mitglied des Programmkomitees

26. European Conference on Information Systems (ECIS), Portsmouth, UK, 2018: Track "Social Media in Business and Society" und Workshop "User Assistance in Interactive Intelligent Systems"

16. Internationale Tagung Wirtschaftsinformatik (WI), Siegen, 2019 : Tracks "Human Computer Interaction" und "eHealth und Alternde Gesellschaft"

European Conference on Data Analysis (ECDA), Bayreuth, 2019: Mitglied des Programmkomitees
Offer in Education
University of Augsburg
​Universität Bayreuth
Verhaltensökonomie und Informationssysteme (M.Sc.)
Masterseminar "Wirtschaftsinformatik (M.Sc.)
Abschlussarbeiten (B.Sc. & M.Sc.)