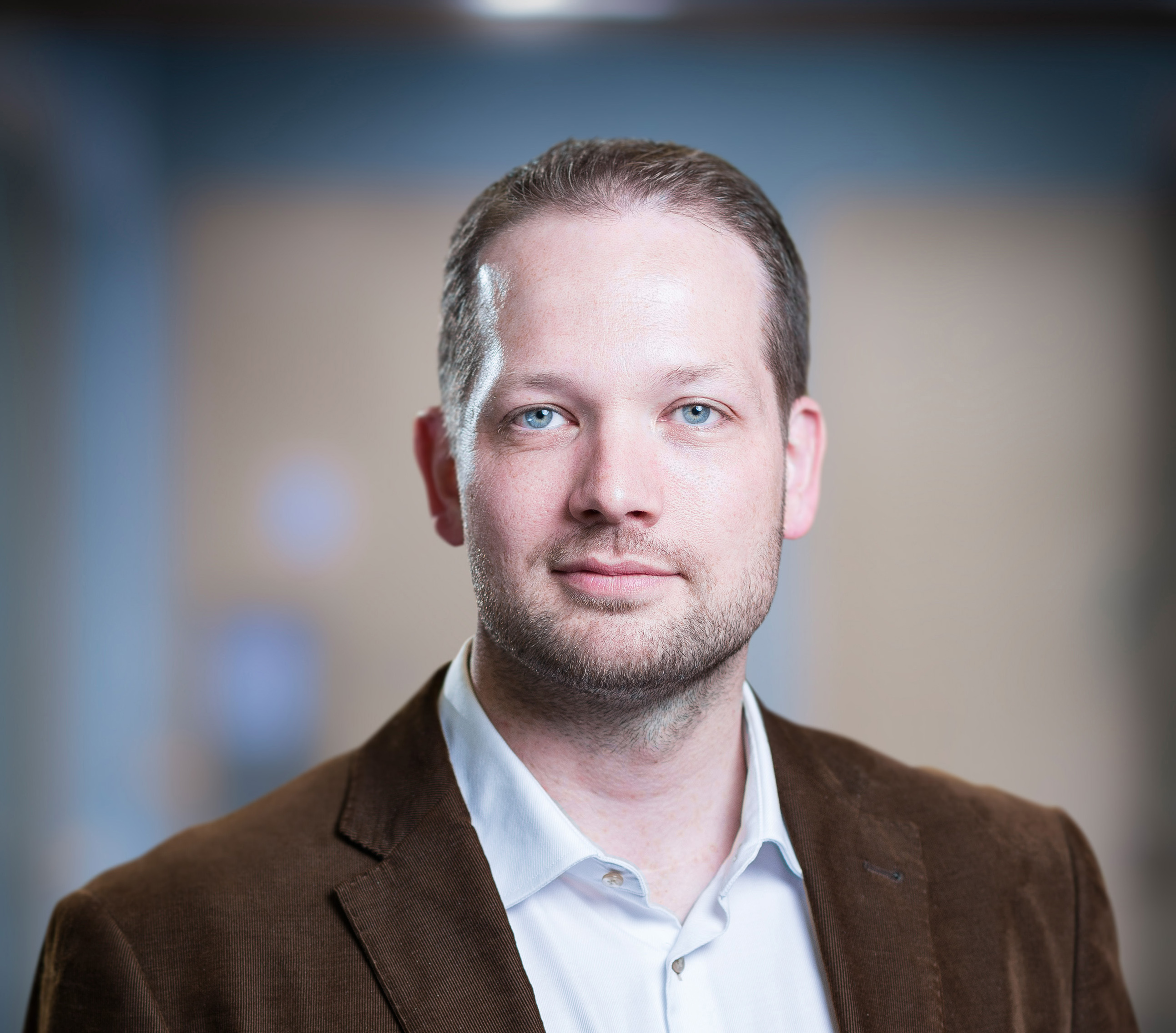 Professor


henner.gimpel@fim-rc.de


  +49 711 459 – 24051


Schlosshof-Ost, Obergeschoss,        Raum 117 (Sekretariat)
Universität Hohenheim
​Prof. Dr. Henner Gimpel holds the
Chair of Digital Management
, is Vice Dean for Research and Knowledge Transfer at the
Faculty of Economics and Social Sciences
at the
University of Hohenheim
, and is head of the
Digital Business Management program
. He is engaged in a leading position at
the Branch Business & Information Systems Engineering of the Fraunhofer FIT and
member of the
Research Center Finance & Information Management
. The 
main focus
 of his work is the analysis and design of digitization. He deals with socio-technical information systems in which people, information and digital technologies interact with each other. The goals here are, on the one hand, the human-centered and economically target-oriented development and use of information systems and, on the other hand, the analysis of individual acceptance and handling of digital technologies in the financial sector, the health sector and the high-tech industry. Professor Gimpel focuses on the following topics:
Customer Relationship Management (CRM), in particular multi-channel customer interaction and integration in business processes, customer satisfaction and customer experience management, sustainability in CRM, social CRM, customer data analysis, data protection and data evaluation.
Digital Life, especially integration of private and business information systems, digitization of the individual, individual information systems, social media, social computing, social collaboration, digital workplace, technostress and information overload, self-tracking, psychologically healthy handling of digital technologies, e-health and telemedicine.
Management in the digital age, in particular digital transformation of established companies, process digitization, innovation management, agile innovation and open innovation, e-commerce, e-business, electronic markets, inter-company networking in ecosystems, (big) data analytics and data-based business models, collective intelligence and decision-making.
In his 
research
, Professor Gimpel primarily uses theoretically based quantitative empirical studies (laboratory and field experiments, structured surveys, analysis of secondary data using statistical and data mining methods) and links these with design oriented and conceptional theoretical approaches. Professor Gimpel gained international research experience during two research stays at the 
IBM T.J. Watson Research Center
 in New York and a research stay at the 
Center for Interuniversity Research and Analysis on Organizations
 in Montréal. Professor Gimpel and his colleagues are working, at home and abroad, on numerous projects, some of them interdisciplinary, in line with the topics outlined above. Current projects include, for example, the following:
Professor Gimpel supports numerous companies in various 
industries
 in the development of innovative solutions for individual questions and challenges. Thematically, these practical projects are in the field of information systems, management engineering and digital transformation, often based on the topics outlined above. Professor Gimpel also gained practical experience as a management consultant at McKinsey & Company for five years. He has supported companies primarily in the healthcare, automotive, energy and financial sectors with a focus on information technology, marketing and strategy. Some of the companies Professor Gimpel has worked with in recent years: BMW, Carl Zeiss, Deutsche Bank, Munich Airport, IBM, Microsoft, NORD/LB, PwC, Siemens and the Versicherungskammer Bayern.
Further information on practical cooperations
In his 
teaching
, Professor Gimpel deals with business administration with a focus on sustainable management in the digital age, information systems and digitization. In these areas he offers lectures, exercises, (project) seminars and the supervision of individual research and dissertations for Bachelor and Master students and doctoral candidates. The didactic preparation is based on the theoretical model of the cognitive apprenticeship. In a balanced ratio of instructive and permissive teaching and learning opportunities, students can acquire specialist, methodological and personnel skills. In addition to the courses offered at the University of Augsburg, Professor Gimpel is a lecturer at the 
Bavarian Elite Academy
 and the 
Fraunhofer Academy
.
Further information on courses and funding opportunities for students
"Das persönliche Wort ist doch immer noch das Wichtigste" : Anforderungen an ein digitalunterstütztes Arbeitssystem zur Förderung der Teamkommunikation und -kollaboration in der stationären Palliativversorgung

presented at: 14. Kongress der Deutschen Gesellschaft für Palliativmedizin, Projekt PALLADiUM in Bremen, Deutschland, 2022

Grimminger, SandraPeuten, SarahMarkgraf, MoritzWaldmann, DanielaHeckel, MariaSteigleder, TobiasKlein, CarstenSchneider, WernerGimpel, Henner

From Broken Habits to New Intentions : How COVID-19 Expands Our Knowledge on Post-adoptive Use Behaviour of Digital Communication and Collaboration

in: European Journal of Information Systems, 2022

Schoch, ManfredGimpel, HennerMaier, AndreasNeumeier, Kathrin

Individuals' Concerns Associated With Digital Healthcare : Professionals' and Patients' Hindrances to Adopt Digital Healthcare Services

in: Proceedings of the 30th European Conference on Information Systems (ECIS), Timișoara, Romania, 2022

Blaß, MarleneGimpel, HennerRegal, ChristianWaldmann, Daniela

Sustainable Behavior in Motion : Designing Mobile Eco-Driving Feedback Information Systems

in: Information Technology & Management, 2022

Gimpel, HennerHeger, SebastianWöhl, Moritz

Task Structure as a Boundary Condition for Collective Intelligence

in: Personnel Psychology, 2022

Graf-Drasch, ValerieGimpel, HennerBarlow, Jordan B.Dennis, Alan R.

Towards a Mobile Coping Assistant

in: Proceedings of the 55th Hawaii International Conference on System Sciences (HICSS), Honolulu, USA, 2022

Schmidt, MarcoBerger, MichelleGörl, LeaLahmer, StefanieGimpel, Henner

Prävention für sicheres und gesundes Arbeiten mit digitalen Technologien : Abschlussbericht des Verbundprojekts PräDiTec

Projektgruppe Wirtschaftsinformatik des Fraunhofer FIT, 2021

Gimpel, HennerBerger, MichelleLanzl, JuliaRegal, ChristianSchäfer, RicardaWischniewski, SaschaCerta, MathiasTegtmeier, PatriciaKühlmann, Torsten M.Becker, JuliaDerra, Nicholas DanielEimecke, JörgenDrees, MichaelBacherle, PatrickChung, Hye-JungGunkel, ClaudiaLudwig, DirkNübling, MarcoHüser, Sascha

Ökonomische sowie ökologische Potenziale des unternehmensübergreifenden Datenaustauschs : Wie eine Umsetzung für Unternehmen sicher und erfolgreich gestaltet werden kann – Am Beispiel der Technologie Fräsen

2021

Rückert, AlenaFrank, AndreasGimpel, HennerStarke, JoachimHeinzer, JürgenTrautmann, LucaStöter, MaximilianNüske, Niclas

The Role of Domain Expertise in Trusting and Following Explainable AI Decision Support Systems

in: Journal of Decision Systems, 2021

Bayer, SarahGimpel, HennerMarkgraf, Moritz

Prävention von digitalem Stress in der Praxis : Erkenntnisse aus drei Fallstudien in kleineren und mittleren Unternehmen (KMU)

2021

Gimpel, HennerLanzl, JuliaOsberghaus, KilianRegal, ChristianSchäfer, RicardaWischniewski, SaschaTegtmeier, PatriciaCerta, MathiasKühlmann, Torsten M.Becker, JuliaDerra, Nicholas DanielRath, SimonScheibe, Rebecca

Präventionsmaßnahmen der digitalen Arbeit : Ein strukturierter Katalog an Präventionsmaßnahmen zur Vermeidung von digitalem Stress

Fraunhofer FIT, 2021

Gimpel, HennerBerger, MichelleLanzl, JuliaRegal, ChristianSchäfer, RicardaSchmidt, MarcoSchmidt, Tina

Auf dem Weg zum vertrauensvollen, unternehmensübergreifenden automatisierten Datenaustausch von Maschinen : Identifikation von schützenswertem Wissen im Zeitalter von Industrie 4.0

in: HMD Praxis der Wirtschaftsinformatik, 2021

Adler, LeonFrank, AndreasGimpel, HennerHeger, SebastianNüske, NiclasStarke, JoachimWaldmann, DanielaWöhl, Moritz

Übergreifende Vision der Krankenhauslogistik im Jahr 2030

in: Gimpel, Henner: Hospital 4.0 : Schlanke, digital-unterstützte Logistikprozesse in Krankenhäusern, Springer Gabler, Wiesbaden, 2021

Schröder, JürgenGimpel, HennerWöhl, MoritzHeger, SebastianKriner, Hildegard

Designing smart and sustainable irrigation : A case study

in: Journal of Cleaner Production, 2021

Gimpel, HennerGraf-Drasch, ValerieHawlitschek, FlorianNeumeier, Kathrin

The Effectiveness of Social Norms in Fighting Fake News on Social Media

in: Journal of Management Information Systems, 2021

Gimpel, HennerHeger, SebastianOlenberger, ChristianUtz, Lena

Grundlagen, Methoden und Vorgehen zur Analyse und Gestaltung von Logistikprozessen

in: Gimpel, Henner: Hospital 4.0 : Schlanke, digital-unterstützte Logistikprozesse in Krankenhäusern, Springer Gabler, Wiesbaden, 2021

Gimpel, HennerHeger, SebastianSchröder, JürgenKriner, HildegardWöhl, Moritz

Hospital 4.0 : Schlanke, digital-unterstützte Logistikprozesse in Krankenhäusern

in: Gimpel, Henner: Hospital 4.0 - Schlanke, digital-unterstützte Logistikprozesse in Krankenhäusern, Springer Gabler, Wiesbaden, 2021

Gimpel, HennerSchröder, Jürgen

How Adolescents Cope With Technostress : A Mixed-Methods Approach

in: International Journal of Electronic Commerce, 2021

Schmidt, MarcoFrank, LukasGimpel, Henner

How to Conquer One's Weaker Self : Does Autonomy Affordance Increase Goal Performance and Well-being?

in: Proceedings of the 54th Hawaii International Conference on System Sciences (HICSS), Honolulu, USA, 2021

Gimpel, HennerNüske, NiclasRegal, Christian

IoT-commerce : opportunities for customers through an affordance lens

in: Electronic Markets, 2021

Bayer, SarahGimpel, HennerRau, Daniel

Das Krankenhaus im Wandel : Herausforderungen und Chancen in der Krankenhauslogistik

in: Gimpel, Henner: Hospital 4.0 : Schlanke, digital-unterstützte Logistikprozesse in Krankenhäusern, Springer Gabler, Wiesbaden, 2021

Gimpel, HennerSchröder, JürgenBaier, Marie-SophieHeger, SebastianHufnagl, ChristineKriner, HildegardWöhl, Moritz

Krankenhauslogistik : Zusammenfassung und Ausblick

in: Gimpel, Henner: Hospital 4.0 : Schlanke, digital-unterstützte Logistikprozesse in Krankenhäusern, Springer Gabler, Wiesbaden, 2021

Gimpel, HennerHeger, SebastianHennrich, JasminSchröder, JürgenKriner, Hildegard

Kunden umfassend kennenlernen : Erfahrungen einer Shadowing-Studie an einem internationalen Verkehrsflughafen

in: Wirtschaftsinformatik & Management, 2021

Gimpel, HennerHinterholzer, ThomasLanzl, JuliaMarheineke, TorstenPfauser, FabiolaRöglinger, Maximilian

Market Engineering : Insights from Two Decades of Research on Markets and Information

Springer International Publishing, Cham, 2021

Gimpel, HennerKrämer, JanNeumann, DirkPfeiffer, JellaSeifert, StefanTeubner, TimmVeit, Daniel J.Weidlich, Anke

Market Success : The Quest for the Objectives and Success Factors of Markets

in: Gimpel, Henner: Market Engineering : Insights from Two Decades of Research on Markets and Information, Springer International Publishing, Cham, 2021

Gimpel, HennerHanny, LisaOtt, MarionWagner, JonathanWeibelzahl, MartinBichler, MartinOber, Steffi

A Simulation-Based Approach to Understanding the Wisdom of Crowds Phenomenon in Aggregating Expert Judgment

in: Business & Information Systems Engineering, 2021

Afflerbach, Patrickvan Dun, ChristopherGimpel, HennerParak, DominikSeyfried, Johannes

Understanding the evaluation of mHealth app features based on a cross-country Kano analysis

in: Electronic Markets, 2021

Gimpel, HennerManner-Romberg, TobiasSchmied, FabianWinkler, Till J.

Information Systems for Sustainable Use of Water in Smart Cities : A Review and Call for Future Research

presented at: SIGGreen Pre-ICIS 2020 Workshop, Online, 2020

Gimpel, HennerGraf-Drasch, ValerieHawlitschek, FlorianNeumeier, Kathrin

Belastungsfaktoren der digitalen Arbeit als Treiber für digitalen Stress

in: VDBW aktuell, 2020

Gimpel, HennerRegal, Christian

Tackling Scarcity with Smartness : Sustainable Water Systems in Smart Cities

presented at: Pre-ICIS 2020 Workshop, online, 2020

Gimpel, HennerGraf-Drasch, ValerieHawlitschek, FlorianNeumeier, Kathrin

When does it pay off to integrate sustainability in the business model? : A Game-Theoretic Analysis

in: Electronic Markets, 2020

Gimpel, HennerGraf-Drasch, ValerieKammerer, AlexanderKeller, MaximilianZheng, Xinyi

Facilitating like Darwin : Supporting Cross-Fertilisation in Crowdsourcing

in: Decision Support Systems, 2020

Gimpel, HennerGraf-Drasch, ValerieLaubacher, Robert J.Wöhl, Moritz

Belastungsfaktoren der digitalen Arbeit : Eine beispielhafte Darstellung der Faktoren, die digitalen Stress hervorrufen

FIT, 2020

Gimpel, HennerBerger, MichelleRegal, ChristianUrbach, NilsKreilos, MathiasBecker, JuliaDerra, Nicholas Daniel

Assessing Healthcare Service Quality Using Routinely Collected Data : Linking Information Systems in Emergency Care

in: Journal of Medical Systems, 2020

Dormann, HaraldEder, Patrick A.Gimpel, HennerMeindl, OliverRashid, AsarnuschRegal, Christian

A comprehensive model for individuals' acceptance of smart energy technology : a meta-analysis

in: Energy Policy, 2020

Gimpel, HennerGraf, VanessaGraf-Drasch, Valerie

Considering Characteristic Profiles of Technologies at the Digital Workplace : The Influence on Technostress

in: Proceedings of the 41st International Conference on Information Systems (ICIS), Hyderabad, India, 2020

Becker, JuliaBerger, MichelleGimpel, HennerLanzl, JuliaRegal, Christian

Curating a Crowd that Evaluates Ideas to Solve Grand Challenges : The Role of Specialization

in: Proceedings of the 6th International Conference on Computational Social Science (IC2S2), Boston, USA, 2020

Gimpel, HennerLaubacher, RobertSchäfer, RicardaSchoch, Manfred

Digitale Arbeit während der COVID-19-Pandemie : Eine Studie zu den Auswirkungen der Pandemie auf Arbeit und Stress in Deutschland

Fraunhofer FIT, 2020

Gimpel, HennerBayer, SarahLanzl, JuliaRegal, ChristianSchäfer, RicardaSchoch, Manfred

Driving Sustainably : The Influence of Eco-Feedback and Personal Factors on Driving Behaviour

in: Proceedings of the 53rd Hawaii International Conference on System Sciences (HICSS), Honolulu, USA, 2020

Heger, SebastianGimpel, HennerWöhl, MoritzBätz, Alexander

Moral agency without responsibility? : Analysis of three ethical models of human-computer interaction in times of artificial intelligence (AI)

in: De Ethica, 2020

Fritz, AlexisBrandt, WiebkeGimpel, HennerBayer, Sarah

The Power of Related Articles : Improving Fake News Detection on Social Media Platforms

in: Proceedings of the 53rd Hawaii International Conference on System Sciences (HICSS), Honolulu, USA, 2020

Gimpel, HennerHeger, SebastianKasper, JuliaSchäfer, Ricarda

Teaching an Old Work System New Tricks : Towards an Integrated Method for Work System Transformation in Times of Digitalization

in: Proceedings of 28th European Conference on Information Systems (ECIS), Marrakech, Morocco, 2020

Gimpel, HennerKerpedzhiev, GeorgiKönig, FabianMeindl, Oliver

Value Stream Modelling and Notation : Digitale Transformation von Wertströmen

in: Proceedings of the 15th International Conference on Wirtschaftsinformatik (WI), Potsdam, Germany, 2020

Heger, SebastianThim, HildegardValett, LynneSchröder, JürgenGimpel, Henner

AI-Based Digital Assistants : Opportunities, Threats, and Research Perspectives

in: Business & Information Systems Engineering, 2019

Mädche, AlexanderLegner, ChristineBenlian, AlexanderBerger, BenediktGimpel, HennerHess, ThomasHinz, OliverMorana, StefanSöllner, Matthias

Anthropomorphic Information Systems

in: Business & Information Systems Engineering, 2019

Pfeuffer, NicolasBenlian, AlexanderGimpel, HennerHinz, Oliver

Bank Customers' Decision-Making Process in Choosing between Ethical and Conventional Banking : A Survey-Based Examination

in: Journal of Business Economics = Zeitschrift für Betriebswirtschaft, 2019

Bayer, SarahGimpel, HennerSarikaya, Serkan

Clarifying the Structure of Collective Intelligence in Teams : A Meta-Analysis (Research Poster)

in: Proceedings of the 7th Conference on Collective Intelligence (CI), Pittsburgh, USA, 2019

Graf-Drasch, ValerieGimpel, HennerBarlow, Jordan B.

Design Knowledge on Mobile Stress Assessment

in: Proceedings of the 40th International Conference on Information Systems (ICIS), Munich, Germany, 2019

Gimpel, HennerRegal, ChristianSchmidt, Marco

Gesund digital arbeiten?! : Eine Studie zu digitalem Stress in Deutschland

Projektgruppe Wirtschaftsinformatik des Fraunhofer FIT, 2019

Gimpel, HennerLanzl, JuliaRegal, ChristianUrbach, NilsWischniewski, SaschaTegtmeier, PatriciaKreilos, MathiasKühlmann, Torsten M.Becker, JuliaEimecke, JörgenDerra, Nicholas Daniel

Humane Anthropomorphic Agents : the Quest for the Outcome Measure

presented at: AIS SIGPrag 2019 pre-ICIS workshop "Values and Ethics in the Digital Age", 2019

André, ElisabethBayer, SarahBenke, IvoBenlian, AlexanderCummins, NicholasGimpel, HennerHinz, OliverKersting, KristianMädche, AlexanderMuehlhaeuser, MaxRiemann, JanSchuller, BjörnWeber, Klaus

Life-Integrated Stress Assessment

in: Proceedings of the 27th European Conference on Information Systems (ECIS), Uppsala, Sweden, 2019

Gimpel, HennerRegal, ChristianSchmidt, Marco

Risks and Side Effects of Digitalization : A Multi-Level Taxonomy of the Adverse Effects of Using Digital Technologies and Media

in: Proceedings of the 27th European Conference on Information Systems (ECIS), Uppsala, Sweden, 2019

Gimpel, HennerSchmied, Fabian

Self-Tracking and Gamification : Analyzing the Interplay of Motivations, Usage and Motivation Fulfillment

in: Proceedings of the 14th International Conference on Wirtschaftsinformatik (WI), Siegen, Deutschland, 2019

von Entreß-Fürsteneck, MatthiasGimpel, HennerNüske, NiclasRückel, TimonUrbach, Nils

Auf dem Weg zu einem sektorenübergreifenden Qualitätscockpit : Chancen der digitalen Transformation für die notfallmedizinische Versorgungsforschung

presented at: 13. Jahrestagung Deutsche Gesellschaft interdisziplinäre Notfall- und Akutmedizin (DGINA) e.V., Leipzig, 2018

Dormann, HaraldEder, Patrick A.Meindl, OliverRegal, ChristianGimpel, HennerRashid, Asarnusch

Patientenzentriertes Service Design für chronische Krankheiten : Vorstellen eines "Service Construction Set" - getestet anhand Multipler Sklerose

presented at: 63. Jahrestagung der Deutschen Gesellschaft für Medizinische Informatik, Biometrie und Epidemiologie e. V., Osnabrück, Deutschland, 2018

Harding, CarinaGimpel, HennerShammas, LayalRegal, ChristianRashid, Asarnusch

Qualitätscockpit in der Notfallmedizin : ein sektorenübergreifendes Messinstrument in der digitalen Notfallversorgung

presented at: 63. Jahrestagung der Deutschen Gesellschaft für Medizinische Informatik, Biometrie und Epidemiologie e. V., Osnabrück, Deutschland, 2018

Eder, Patrick A.Meindl, OliverRegal, ChristianGimpel, HennerDormann, HaraldRashid, Asarnusch

Logistik : Transparenz, Sicherheit und Effizienz

in: Management & Krankenhaus : Zeitung für Entscheider im Gesundheitswesen, 2018

Gimpel, HennerÜbelhör, Jochen

Qualitätscockpit in der Notfallmedizin

in: Management & Krankenhaus kompakt, Notfall- und Intensivmedizin, 2018

Gimpel, HennerRegal, ChristianMeindl, OliverDormann, HaraldRashid, AsarnuschEder, Patrick A.

Consumer Motives for Peer-to-Peer Sharing

in: Journal of Cleaner Production, 2018

Hawlitschek, FlorianTeubner, TimmGimpel, Henner

Crowd Labor Markets as Platform for Group Decision and Negotiation Research : a Comparison to Laboratory Experiments

in: Group Decision and Negotiation, 2018

Teschner, FlorianGimpel, Henner

Daten monetarisieren

in: Neugebauer, Reimund: Digitalisierung : Schlüsseltechnologien für Wirtschaft und Gesellschaft, Springer Vieweg, Berlin, 2018

Gimpel, Henner

Digitaler Stress in Deutschland : Eine Befragung von Erwerbstätigen zu Belastung und Beanspruchung durch Arbeit mit digitalen Technologien

Hanns-Böckler-Stiftung, 2018

Gimpel, HennerLanzl, JuliaManner-Romberg, TobiasNüske, Niclas

The Disclosure of Private Data : Measuring the Privacy Paradox in Digital Services

in: Electronic Markets, 2018

Gimpel, HennerKleindienst, DominikusWaldmann, Daniela

Interdisziplinäre Forschung : Stratifizierte Prävention

in: Deutsches Ärzteblatt, 2018

Kirchhof, GregorKirchhof, PaulusLindner, Josef FranzAchenbach, StephanBerger, KlausBlankenberg, StefanFangerau, HeinerGimpel, HennerGassner, Ulrich M.Kersten, JensMagnus, DorotheaRebscher, HerbertRixen, StephanSchunkert, Heribert

An investigation of the effects of anthropomorphism in collective human-machine decision-making

in: Proceedings of the 26th European Conference on Information Systems (ECIS), Portsmouth, UK, 2018

André, ElisabethGimpel, HennerOlenberger, Christian

No Rage Against the Machine : How Computer Agents Mitigate Human Emotional Processes in Electronic Negotiations

in: Group Decision and Negotiation, 2018

Adam, Marc T. P.Teubner, TimmGimpel, Henner

Perspektiven der stratifizierten Prävention : Chancen und Grenzen am Beispiel der kardiovaskulären Medizin

in: Monitor Versorgungsforschung, 2018

Kirchhof, GregorLindner, Josef FranzKirchhof, PaulusGimpel, HennerAchenbach, StephanBerger, KlausBlankenberg, StefanFangerau, HeinerGassner, Ulrich M.Kersten, JensMagnus, DorotheaRebscher, HerbertSchunkert, HeribertRixen, Stephan

Stratified prevention : opportunities and limitations ; Report on the 1st interdisciplinary cardiovascular workshop in Augsburg

in: Clinical Research in Cardiology, 2018

Kirchhof, GregorLindner, Josef FranzAchenbach, StephanBerger, KlausBlankenberg, StefanFangerau, HeinerGimpel, HennerGassner, Ulrich M.Kersten, JensMagnus, DorotheaRebscher, HerbertSchunkert, HeribertRixen, StephanKirchhof, Paulus

Structuring Digital Transformation : A Framework of Action Fields and its Application at ZEISS

in: Journal of Information Technology Theory and Application, 2018

Gimpel, HennerHosseini, SabiöllaHuber, RoccoProbst, LauraRöglinger, MaximilianFaisst, Ulrich

Der unbekannte Kunde : Potenziale der Integration von Kundendaten

in: HMD Praxis der Wirtschaftsinformatik, 2018

Gimpel, HennerSchmied, FabianStöber, Anna-Luisa

Understanding FinTech Start-Ups : A Taxonomy of Consumer-Oriented Service Offerings

in: Electronic Markets, 2018

Gimpel, HennerRau, DanielRöglinger, Maximilian

The Upside of Data Privacy - Delighting Customers by Implementing Data Privacy Measures

in: Electronic Markets, 2018

Gimpel, HennerKleindienst, DominikusNüske, NiclasRau, DanielSchmied, Fabian

User Roles in Online Political Discussions : A Typology based on Twitter Data from the German Federal Election 2017

in: Proceedings of the 26th European Conference on Information Systems (ECIS), Portsmouth, UK, 2018

Gimpel, HennerHaamann, FlorianSchoch, ManfredWittich, Marcel

User Roles in Online Political Discussions : a Typology based on Twitter Data from the German Federal Election 2017

presented at: 80. Jahrestagung des Verbands der Hochschullehrer für Betriebswirtschaft (VHB 2018), Magdeburg, Deutschland, 2018

Gimpel, HennerHamann, FlorianSchoch, ManfredWittich, Marcel

Customer Experience Management : Kontinuierlicher Kreislauf

in: BankInformation, 2017

Gimpel, Henner

Design Blueprint for Stress-Sensitive Adaptive Enterprise Systems

in: Business & Information Systems Engineering, 2017

Adam, Marc T. P.Gimpel, HennerMädche, AlexanderRiedl, René

"Digitalisierung erfordert auch, Gewohntes strukturiert zu verlernen"

in: Wirtschaftsinformatik & Management, 2017

Gimpel, HennerRöglinger, Maximilian

Disruptive Technologien : Blockchain, Deep Learning & Co.

in: Wirtschaftsinformatik & Management, 2017

Gimpel, HennerRöglinger, Maximilian

Drivers and Barriers to Individual Participation in the Peer-to-Peer Sharing Economy

presented at: 79. Jahrestagung des Verbands der Hochschullehrer für Betriebswirtschaft (VHB 2017), St. Gallen, Schweiz, 2017

Teubner, TimmHawlitschek, FlorianGimpel, Henner

Emergent User Roles of a Digital Workplace : A Network Analysis Based on Trace Data

in: Proceedings of the 38th International Conference on Information Systems (ICIS), Seoul, South Korea, 2017

Frank, LeonhardGimpel, HennerSchmidt, MarcoSchoch, Manfred

Generic Sensor Framework enabling Personalized Healthcare

in: Proceedings of the IEEE Life Sciences Conference (LSC), Sydney, Australia, 2017

Beckmann, SvenLahmer, StefanieMarkgraf, MoritzMeindl, OliverRauscher, JuliaRegal, ChristianGimpel, HennerBauer, Bernhard

Manipulation in Conditional Decision Markets

in: Group Decision and Negotiation, 2017

Teschner, FlorianRothschild, DavidGimpel, Henner

"Technologien müssen Kundenprobleme lösen"

in: Wirtschaftsinformatik & Management, 2017

Gimpel, HennerRöglinger, Maximilian

The Impact of Sustainability on Consumers' Technology Approval : Taking Smart Energy-Saving Systems as an Example of Application

presented at: 4th Conference on Energy Informatics & Management, Netherland, Rotterdam, 2016

Graf-Drasch, ValerieGimpel, Henner

Brands as Friends : An Investigation into Consumers' Motivations to form Relationships with Brands in Online Social Networks

presented at: 78. Wissenschaftliche Jahrestagung des VHB, München, Germany, 2016

Gimpel, HennerGraf-Drasch, ValerieSemmler, Jakob

Customer Satisfaction in Digital Service Encounters : The Role of Media Richness, Social Presence, and Cultural Distance

in: Proceedings of the 24th European Conference on Information Systems (ECIS), Istanbul, Turkey, 2016

Gimpel, HennerHuber, JohannesSarikaya, Serkan

Financing Projects through Enterprise Crowdfunding : Understanding the Impact of Proposal Characteristics on Funding Success

in: Proceedings of the 24th European Conference on Information Systems (ECIS), Istanbul, Turkey, 2016

Feldmann, NielsGimpel, Henner

FinTech-Geschäftsmodelle im Visier

in: Wirtschaftsinformatik & Management, 2016

Gimpel, HennerRau, DanielRöglinger, Maximilian

The Importance of User Motivations in the Sharing Economy : Towards a Research Agenda

presented at: 3rd International Workshop on the Sharing Economy (IWSE 2016), Southampton, UK, 2016

Hawlitschek, FlorianTeubner, TimmGimpel, Henner

Kunden wollen was erleben

in: Bankmagazin, 2016

Gimpel, HennerSarikaya, Serkan

Understanding the Sharing Economy : Drivers and Impediments for Participation in Peer-to-Peer Rental

in: Proceedings of the 49th Annual Hawaii International Conference on System Sciences (HICCS), Kauai, Hawaii, 2016

Hawlitschek, FlorianTeubner, TimmGimpel, Henner

Digital Transformation : Changes and Chances – Insights based on an Empirical Study

Fraunhofer Institute for Applied Information Technology FIT, 2015

Gimpel, HennerRöglinger, Maximilian

How (not) to Incent Crowd Workers : Payment Schemes and Feedback in Crowdsourcing

in: Business & Information Systems Engineering, 2015

Straub, TimGimpel, HennerTeschner, FlorianWeinhardt, Christof

Interview with Thomas W. Malone on "Collective Intelligence, Climate Change, and the Future of Work"

in: Business & Information Systems Engineering, 2015

Gimpel, Henner

myStress : Unobtrusive Smartphone-based Stress Detection

in: Proceedings of the 23rd European Conference on Information Systems (ECIS), Münster, Germany, 2015

Gimpel, HennerRegal, ChristianSchmidt, Marco

Market-Based Collective Intelligence in Enterprise 2.0 Decision Making

presented at: Collective Intelligence 2014, Boston, MA, USA, 2014

Gimpel, HennerTeschner, Florian

The Negative Effect of Feedback on Performance in Crowd Labor Tournaments

presented at: Collective Intelligence 2014, Boston, MA, USA, 2014

Straub, TimGimpel, HennerTeschner, Florian

Collective Intelligence in Market-Based Social Decision Making

in: Reshaping society through information systems design : 34th International Conference on Information Systems, ICIS 2013 ; Milan, Italy, 15 - 18 December 2013. Volume 1, Curran, Red Hook, NY, 2014

Gimpel, HennerTeschner, Florian

Crowd Labor Markets as Platform for IS Research : First Evidence from Electronic Markets

in: Reshaping society through information systems design : 34th International Conference on Information Systems, ICIS 2013 ; Milan, Italy, 15 - 18 December 2013. Volume 2, Curran, Red Hook, NY, 2014

Teschner, FlorianGimpel, Henner

Enterprise Crowdfunding : Supporting Openness in Innovation Management beyond Obtaining Ideas

presented at: 12th Annual International Open and User Innovation Conference (OUI 2014), Cambridge, MA, USA, 2014

Feldmann, NielsGimpel, HennerMuller, MichaelGeyer, Werner

Feedback and Performance in Crowd Work : A Real Effort Experiment

in: Proceedings of the 22nd European Conference on Information Systems (ECIS), Tel Aviv, Israel, 2014

Straub, TimGimpel, HennerTeschner, FlorianWeinhardt, Christof

Idea Assessment via Enterprise Crowdfunding : An Empirical Analysis of Decision-Making Styles

in: Proceedings of the 22nd European Conference on Information Systems (ECIS), Tel Aviv, Israel, 2014

Feldmann, NielsGimpel, HennerMuller, MichaelGeyer, Werner

Quantifying the Quantified Self : A Study on the Motivation of Patients to Track Their Own Health

in: Reshaping society through information systems design : 34th International Conference on Information Systems, ICIS 2013 ; Milan, Italy, 15 - 18 December 2013. Volume 4, Curran, Red Hook, NY, 2014

Gimpel, HennerNiben, MarciaGörlitz, Roland A.

Social Collaboration in Project Work : An Exploratory Empirical Analysis of Benefits and Technologies

2014

Flößer, PhilippGimpel, HennerCaton, SimonSchäfer, Jennifer

Stress-Sensitive Adaptive Enterprise Systems : Theoretical Foundations and Design Blueprint

in: Proceedings of the Gmunden Retreat on NeuroIS, Gmunden, Österreich, 2014

Adam, Marc T. P.Gimpel, HennerMädche, AlexanderRiedl, René

Emotion Regulation in Management : Harnessing the Potential of NeuroIS Tools

in: ECIS 2013 : 21st European Conference on Information Systems, Utrecht, The Netherlands, June 5-8, 2013 ; Proceedings, Association of Information Systems, s.l., 2013

Gimpel, HennerAdam, Marc T. P.Teubner, Timm

Emotions in Dynamic Bargaining with Humans and Computer Agents

in: Davis, Fred: Proceedings Gmunden Retreat on NeuroIS 2013, s.l., 2013

Adam, Marc T. P.Gimpel, HennerTeubner, Timm

Individualized Quality-Differentiated Services : A Market Model and Comparison of Negotiation Mechanisms

in: Proceedings of the 11th International Conference on Wirtschaftsinformatik (WI), Leipzig, Germany, 2013

Haak, SteffenGimpel, Henner

Prediction markets with experts concerned in post-market information usage : Experimental evidence on collective intelligence

in: 2013 ESA World Meetings, Zürich, Switzerland on July 11-14, 2013, s.l., 2013

Gimpel, HennerTeschner, Florian

Thinking Fast and Slow in Online Labor Markets : A Note on what to Expect when Conducting Economic Experiments on Amazon Mechanical Turk

in: Jahrestagung 2013 der GfeW e.V. in Helmstedt, s.l., 2013

Gimpel, Henner

Using Crowd Funding for Idea Assessment inside Organizations : Lessons Learned from a Market Engineering Perspective

in: 2013 International Conference on Cloud and Green Computing (CGC 2013) : Karlsruhe, Germany, Sept. 30 - Oct. 2, 2013, IEEE, Piscataway, NJ, 2013

Feldmann, NielsGimpel, HennerKohler, MarcWeinhardt, Christof

Decision Markets with Experts' Preferences over the Decision : Experimental Evidence

presented at: European Meeting of the Economic Science Association (ESA), Cologne, Germany, 2012

Gimpel, HennerTeschner, Florian

Measuring the Impact of Information Aggregation Mechanisms : An Experimental Investigation

in: Journal of Economic Behavior & Organization, 2011

Bennouri, MoezGimpel, HennerRobert, Jaques

Made in Germany : Zukunftsperspektiven für die Produktion in Deutschland

McKinsey & Company, 2009

Cachay, JanGimpel, HennerKaar, JohannesRumpel, GuidoSandau, Jürgen

de Boer, EnnoKluge, JürgenStrube, GernotAbele, Eberhard

Renaissance für Made in Germany?

in: Akzente : Consumer & Service Industries, 2009

de Boer, EnnoGimpel, HennerProff, Harald

Methods and Apparatus for Coordinating and Selecting Protocols for Resource Acquisition from Multiple Resource Managers

2008

Dan, AsitGimpel, HennerLudwig, Heiko

Cognitive Biases in Negotiation Processes

in: Gimpel, Henner: Negotiation, Auctions, and Market Engineering, Springer, Berlin, 2008

Gimpel, Henner

Market Engineering : A Research Agenda

in: Gimpel, Henner: Negotiation, auctions, and market engineering : international seminar, Dagstuhl Castle, Germany, November 12-17, 2006, revised selected papers, Dagstuhl, 2008

Gimpel, HennerJennings, Nicholas R.Kersten, Gregory E.Ockenfels, AxelWeinhardt, Christof

Negotiation, Auctions, and Market Engineering

Springer, Berlin, 2008

Gimpel, HennerJennings, Nicholas R.Kersten, Gregory E.Ockenfels, AxelWeinhardt, Christof

eOrganisation : Service-, Prozess-, Market-Engineering. Band 1

presented at: 8. Internationale Tagung Wirtschaftsinformatik, Karlsruhe, 2007

Oberweis, AndreasWeinhardt, ChristofGimpel, HennerKoschmider, AgnesPankratius, VictorSchnizler, Björn

eOrganisation : Service-, Prozess-, Market-Engineering. Band 2

presented at: 8. Internationale Tagung Wirtschaftsinformatik, Karlsruhe, 2007

Oberweis, AndreasWeinhardt, ChristofGimpel, HennerKoschmider, AgnesPankratius, VictorSchnizler, Björn

Loss Aversion and Reference-Dependent Preferences in Multi-Attribute Negotiations

in: Group Decision and Negotiation, 2007

Gimpel, Henner

Negotiation, Auctions, and Market Engineering

in: 8. Internationale Tagung Wirtschaftsinformatik (WI 2007) : Karlsruhe, 28.02.-02.03.2007, Karlsruhe, 2007

Gimpel, HennerJennings, Nicholas R.Kersten, Gregory E.Ockenfels, AxelWeinhardt, Christof

Preferences in Negotiations : The Attachment Effect

Springer, Berlin, 2007

Gimpel, Henner

Trust Indicator Modeling for a Reputation Service in Virtual Organizations

in: Österle, Hubert: Relevant rigour - rigorous relevance : 15th European Conference on Information Systems ; ECIS 2007 ; St. Gallen, June 07 - 09, 2007, St. Gallen, 2007

Winkler, Till J.Haller, JochenGimpel, HennerWeinhardt, Christof

Methods and Apparatus for Agreement-Based Automated Service Provisioning : US Patent Application No. 20060287967

in: Methods and Apparatus for Agreement-Based Automated Service Provisioning : US Patent Application No. 20060287967,2006

Dan, AsitGimpel, HennerLudwig, Heiko

Market Engineering : an Interdisciplinary Research Challenge

in: Jennings, Nicolas R.: Negotiation and Market Engineering, Dagstuhl, Deutschland, 2006

Weinhardt, ChristofGimpel, Henner

Negotiation Fever : Loss Aversion in Multi-Issue Negotiations

in: Jennings, Nicolas R.: Negotiation and Market Engineering, Dagstuhl, Deutschland, 2006

Gimpel, Henner

Reasons for rejecting Pareto-Improvements in Negotiations

in: Seifert, Stefan: Group decision and negotiation (GDN) 2006 : International Conference, Karlsruhe, Germany, June 25 - 28, 2006 ; proceedings, Karlsruhe, Deutschland, 2006

Block, CarstenGimpel, HennerKersten, Gregory E.Weinhardt, Christof

Towards Multi-Attribute Double Auctions for Financial Markets

in: Electronic Markets, 2006

Gimpel, HennerMäkiö, Juho

A Descriptive Auction Language

in: Electronic Markets, 2006

Rolli, DanielLuckner, StefanGimpel, HennerWeinhardt, Christof

Possession, Obsession, and Concession : Preferences and Attachment in Negotiations

Universität Karlsruhe, 2006

Gimpel, Henner

Template-Based Automated Service Provisioning : Supporting the Agreement-Driven Service Life-Cycle

in: Benatallah, Boualem: Service-oriented computing - ICSOC 2005 : 3rd International Conference, Amsterdam, The Netherlands, December 12-15, 2005 ; proceedings, Springer, Berlin ; Heidelberg, 2005

Ludwig, HeikoGimpel, HennerDan, AsitKearny, Bob

Bidding Wars in Internet Auctions

in: Proceedings of Group Decision and Negotiation (GDN) 2005 (Vienna, Austria), Wien, Österreich, 2005

Gimpel, Henner

Endogenous Preferences in Multi-Issue Bargaining

in: Proceedings of Group Decision and Negotiation (GDN) 2005 (Vienna, Austria), Wien, Österreich, 2005

Gimpel, Henner

Multi-Attribute Double Auctions in Financial Trading

presented at: 7th IEEE International Conference on E-Commerce Technology (CEC 2005), München, 2005

Gimpel, HennerMäkiö, JuhoWeinhardt, Christof

Procurement via Continuous-Time Multi-Attribute Double Auctions

in: Proceedings of Group Decision and Negotiation (GDN) 2005 (Vienna, Austria), Wien, Österreich, 2005

Gimpel, Henner

Preference Construction in Negotiations : Loss-Aversion and Quasi-Endowment

in: Annual International Meeting of the Economic Science Association, Montréal, Canada, June 23-26, 2005, Montreal, Kanada, 2005

Gimpel, Henner

Endogenous Preferences in Negotiations : an Experimental Study

in: Proceedings of the the annual meeting of "Gesellschaft für experimentelle Wirtschaftsforschung" (GfeW) 2005, Köln, Deutschland, 2005

Gimpel, Henner

Reference-Dependent Preferences in Multi-Issue Bargaining

in: Lehmann, Daniel: Computing and Markets, Dagstuhl, Deutschland, 2005

Gimpel, Henner

Mit Auktionen gewinnbringender an die Börse

in: Börsen-Zeitung, 2004

Gimpel, Henner

PANDA : Specifying Policies for Automated Negotiations of Service Contracts

in: Orlowska, Maria E.: Service-oriented computing - ICSOC 2003 : first International Conference, Trento, Italy, December 15-18, 2003 ; proceedings, Springer, Berlin ; Heidelberg, 2003

Gimpel, HennerLudwig, HeikoDan, AsitKearney, Bob

Agent-based bidding in Electronic Markets : a Prototypical Approach

in: Monteiro, J. L.: Towards the Knowledge Society : eCommerce, eBusiness and eGovernment, Berlin, 2002

Neumann, DirkGimpel, HennerHoltmann, CarstenWeinhardt, Christof